Cruise Trek 2015 ~
"The Caribbean Oasis"
November 7 ~ 14, 2015
A 7-night cruise aboard Royal Caribbean Lines' Oasis of the Seas,
with guests Dominic Keating, Vaughn Armstrong,
Robin Curtis, and Lolita Fatjo
Optional Kennedy Space Center Tour ~
| | | | | |
| --- | --- | --- | --- | --- |
| Day | Date | Port | Arrive | Depart |
| Thursday | Nov. 5 | Orlando, Florida – Hotel | | Overnight |
| Friday | Nov. 6 | Kennedy Space Center Tour | 9 a.m. | 5 or 6 p.m. |
| Friday | Nov. 6 | Ft. Lauderdale, Florida – Hotel | | Overnight |
Our Cruise Itinerary ~
| | | | | |
| --- | --- | --- | --- | --- |
| Day | Date | Port | Arrive | Depart |
| Saturday | Nov. 7 | Ft. Lauderdale, Florida | | 4:30 p.m. |
| Sunday | Nov. 8 | At Sea | | |
| Monday | Nov. 9 | Labadee, Haiti | 8 a.m. | 5 p.m. |
| Tuesday | Nov. 10 | Falmouth, Jamaica | 10:30 a.m. | 7 p.m. |
| Wednesday | Nov. 11 | At Sea | | |
| Thursday | Nov. 12 | Cozumel, Mexico | 8 a.m. | 7 p.m. |
| Friday | Nov. 13 | At Sea | | |
| Saturday | Nov. 14 | Ft. Lauderdale, Florida | 6:15 a.m. | |
To attend all Cruise Trek events,
passage must be booked through the Cruise Trek office.
This Cruise Trek Adventure was quite different from any we have done in the last 20+ years. This time, we set sail on one of the world's largest ships . . . and it was cram packed with things to do.
Besides the usual resort-like facilities, there was a rock-climbing wall, a zip line, an ice rink, and an outdoor aqua theatre. In addition to the legendary and more progressive entertainment provided by this cruise line, our ship offered groundbreaking design with seven distinct neighborhoods built for ultimate enjoyment and entertainment – Central Park, Royal Promenade, Boardwalk, Pool & Sports Zone, Entertainment Place, Vitality Spa & Fitness Center, and Youth Zone.
Our fellow Cruise Trekkers were ready for a totally excellent adventure!
And they joined in the Caribbean for this jam-packed itinerary of shipboard activities and exotic island port amusements. It was a week of amazing fun, celebrating the joys in life, and, of course, our mutual camaraderie!
Enjoy interacting with special guests and film celebrities!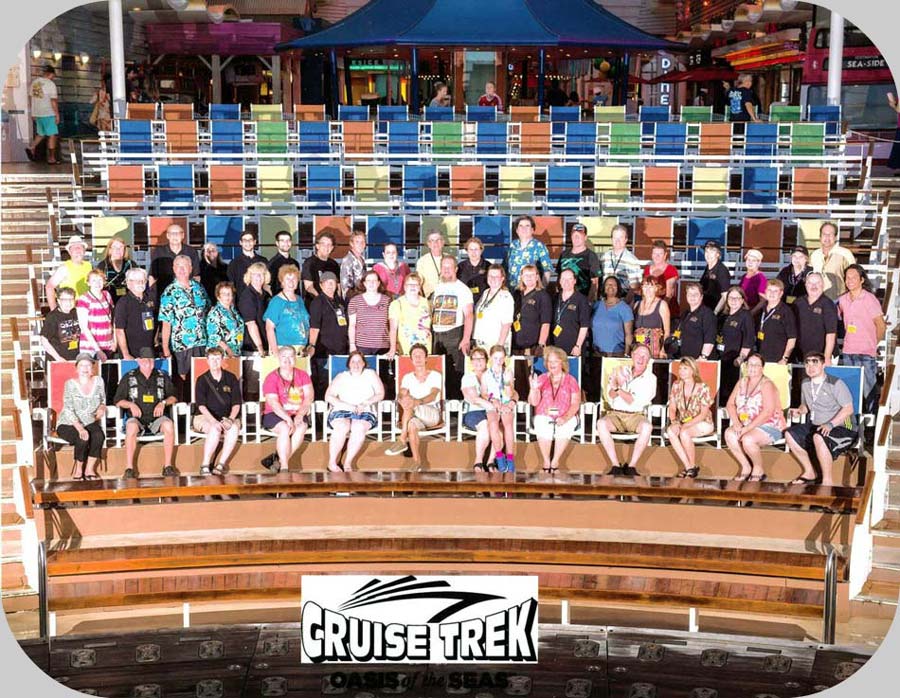 Cruise Trekkers pose for the official CT 2015 Caribbean adventure group shot.
We also has an optional pre-cruise Kennedy Space Center Tour (KSC). Guided by tour specialists, we explored the world's largest launch facility and discover what it takes to launch the space shuttle from preparation to lift-off.
This optional tour included ~
Space Shuttle Atlantis ~ This new $100 million exhibition showcases the priceless, historic shuttle Atlantis and tells the incredible story of NASA's 30-year Space Shuttle Program. Included are multi-media presentations, 60 interactive exhibits, and high-tech simulators that bring to life the complex systems and components behind this incredible feat of engineering.


Launch Control Center Tour ~ Journey inside the firing room where the last 21 shuttle launches were controlled. Walk by the computer consoles at which engineers constantly monitored the launch controls. See the launch countdown clock and large video monitors on the walls. Enter the bubble room with its wall of interior windows through which the management team viewed all of the proceedings below. Re-live the last shuttle launch, Atlantis mission STS-135, while watching the launch footage in the room where the launch became part of history.


Lunch with an Astronaut ~ Get the right stuff at lunch as we meet a veteran member of NASA's Astronaut Corps, have a hot buffet lunch, and participate in a 30-minute interactive Q&A.

~ Please Join the Cruise Trek Mailing List! ~

If you're not already hearing from Cruise Trek by eMail or Snail-Mail, we would like to hear from you!

Please join our mailing list by clicking the link below and filling out the form.

Join the CT Mailing List

If you are receving our eMail and / or Snail-Mail updates, no need to fill out the form – we already have you on our mailing list.



Apollo / Saturn V Center ~ The Apollo / Saturn V Center is the home of the largest rocket ever built – a real Saturn V 363-foot long moon rocket.


IMAX Space Films ~ In two giant IMAX theaters, the dream of spaceflight comes alive. Dramatic footage shot by NASA astronauts during actual missions will make you feel like you're floating alongside them.
The Kennedy Space Center is an active launch facility and as such is sometimes under construction. Tour offerings are subject to change.
The optional Kennedy Space Center tour included one night hotel stay in Orlando, one night hotel stay in Ft. Lauderdale, and transportation from our Orlando Hotel to the Kennedy Space Center and then to our hotel in Fort Lauderdale, as well as a hotel breakfast in Orlando, Lunch with an Astronaut at the Kennedy Space Center, and a stop for dinner at a restaurant on the way to Ft. Lauderdale.
For more details on future Cruise Trek events,
please contact Charlie or give us a call at (310) 456-7544.
---