Cruise Trek 2016:
"The South America Passage"
March 20 ~ April 3, 2016
Three different segments to choose from:
14 days – from Buenos Aires, Argentina, to Santiago / Valparaiso, Chile, as listed below
20 days – from Santiago / Valparaiso, Chile, to San Diego, CA, or
34 days – from Buenos Aires, Argentina, to San Diego, CA
A 14-night cruise aboard Holland America line's Zaandam,
with guests Dominic Keating, Jerry Hardin, and Ron B. Moore
Our "Main Event" Itinerary ~
| | | | | |
| --- | --- | --- | --- | --- |
| Day | Date | Port | Arrive | Depart |
| Sunday | March 20 | Buenos Aires, Argentina | 1 p.m. | Overnight Onboard |
| Monday | March 21 | Buenos Aires, Argentina | | 6 p.m. |
| Tuesday | March 22 | Montevideo, Uruguay | 8 a.m. | 6 p.m. |
| Wednesday | March 23 | At Sea | | |
| Thursday | March 24 | At Sea | | |
| Friday | March 25 | Stanley / Falkland Islands / Islas Malvinas | 8 a.m. | 6 p.m. |
| Saturday | March 26 | Strait of Magellan – Cruising | | |
| Sunday | March 27 | Punta Arenas, Chile | 6 a.m. | 6 p.m. |
| Sunday | March 27 | Cockburn Channel, Beagle Channel, and Glacier Alley – Cruising | | |
| Monday | March 28 | Ushuaia, Argentina | 2 p.m. | 8 p.m. |
| Tuesday | March 29 | Cape Horn – Scenic Cruising | | |
| Wednesday | March 30 | Canal Sarmiento – Cruising | | |
| Thursday | March 31 | Chilean Fjords – Cruising | | |
| Friday | April 1 | Puerto Montt, Chile | 8 a.m. | 5 p.m. |
| Saturday | April 2 | At Sea | | |
| Sunday | April 3 | Valparaiso (Santiago), Chile | 6 a.m. | 4 p.m. |
Separate or Combined Optional Segment ~
| | | | | |
| --- | --- | --- | --- | --- |
| Day | Date | Port | Arrive | Depart |
| Sunday | April 3 | Valparaiso (Santiago), Chile | | 4 p.m. |
| Monday | April 4 | Coquimbo (La Serena), Chile | 7 a.m. | 4 p.m. |
| Tuesday | April 5 | At Sea | | |
| Wednesday | April 6 | At Sea | | |
| Thursday | April 7 | Callao (Lima), Peru | 12 noon | Overnight |
| Friday | April 8 | Callao (Lima), Peru | | Overnight |
| Saturday | April 9 | Callao (Lima), Peru | | 5 p.m. |
| Sunday | April 10 | Salaverry (Trujillo), Peru | 10 a.m. | 6 p.m. |
| Monday | April 11 | At Sea | | |
| Tuesday | April 12 | Manta, Ecuador | 5 a.m. | 5 p.m. |
| Wednesday | April 13 | At Sea | | |
| Thursday | April 14 | Puerto Caldera, Costa Rica | 9 a.m. | 6 p.m. |
| Friday | April 15 | At Sea | | |
| Saturday | April 16 | Puerto Chiapas, Mexico | 8 a.m. | 5 p.m. |
| Sunday | April 17 | At Sea | | |
| Monday | April 18 | At Sea | | |
| Tuesday | April 19 | Puerto Vallarta, Mexico | 8 a.m. | Overnight |
| Wednesday | April 20 | Puerto Vallarta, Mexico | | 2 p.m. |
| Thursday | April 21 | Cabo San Lucas, Mexico | 8 a.m. | 3 p.m. |
| Friday | April 22 | At Sea | | |
| Saturday | April 23 | San Diego, California, USA | 8 a.m. | |
To attend all Cruise Trek events,
passage must be booked through the Cruise Trek office.
Our 2016 cruise, "The South America Passage", was yet another Cruise Trek Adventure quite different than any we have done in the last 20+ years . . . . .
The cruise also offered another ship perfect for the setting, featuring a perfect passenger space ratio to allow us to individually and soufully take in all that this itinerary has to offer.
~ Please Join the Cruise Trek Mailing List! ~
If you're not already hearing from Cruise Trek by eMail or Snail-Mail, we would like to hear from you!
Please join our mailing list by clicking the link below and filling out the form.
Join the CT Mailing List
If you are receving our eMail and / or Snail-Mail updates, no need to fill out the form – we already have you on our mailing list.
We followed some of the historic sea route covered by Magellan and Darwin, passing the contested Falkland Islands, navigating the infamous Cape Horn, and paralleled the rugged mountains of Patagonia.
This is some of the most dramatic, unspoiled landscape on earch – and very few people have had the opportunity to set eyes on it.
In addition, this cruise featured speakers providing expert presentations on the region's geographic formation, biological development, and human history.
We enjoyed plentiful days at sea and a very relaxing port pace. Cruise Trek organizer Charlie Datin reported, "I have been fortunate to have done this particular trip before, and I can honestly say the scenery and wonder of this voyage is the most spectacular I have ever encountered in my 100+ past cruises."
Cruise Trekkers had three sailing options for the "South America Passage" ~
1 ~ The main CT event sailed from from Buenos Aires, Argentina, to Santiago / Valparaiso, Chile – a 14-day cruise including an overnight onboard in Buenos Aires.
2 ~ Cruise Trekkers could also sail from Santiago / Valparaiso, Chile, to San Diego, CA – a 20-day Inca Discovery Cruise, ending in San Diego, California.
3 ~ And some Cruise Trekkers chose to sail both the "Passage" and the "Inca Discovery" itineraries – the entire 34 days from Buenos Aires, Argentina, to San Diego, California!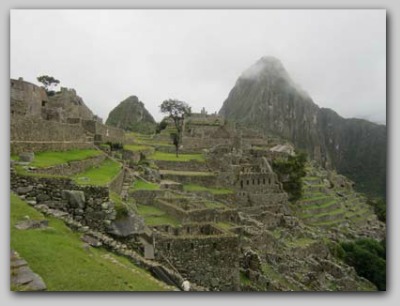 The ancient Incan city of Machu Pichu, now in ruins, is just one of the highlights of visiting Peru in the optional segment.
Valparaiso / Santiago ~
Enjoy a scenic journey from the pier in Valparaiso to the capital of Chile. Santiago de Chile is a city of enormous contrast and often referred to as "Sanhattan." This city has remnants of its colorful past to the ultramodern, high-rise buildings of the financial center.
Peru ~
Called the Kingdom of the Sun, Peru captures a mix of native and European cultures. It is a country of antique cultures, where the traditional way of life is still evident, and a land of great scenic contrasts. It's easy to accept that Peru is one of the greatest treasures of the Americas. Of 103 possible ecological zones on earth, 83 are represented in Peru.
Machu Picchu ~
The Spanish conquistadors came here in search of gold, but they never found the most elusive prize – the Lost City of the Incas, Machu Picchu. "Discovered" in 1911, Machu Picchu represents the cultural heritage of mankind. It is a stone city constructed by incredibly sophisticated techniques, even in present-day terms. Stone upon stone are fitted together perfectly without cement, with exquisite detail worthy of the world's greatest palaces.
For more details on future Cruise Trek events,
please contact Charlie or give us a call at (310) 456-7544.
---