Cruise Trek 1999:
"Panama Canal – The Epic Adventure"
October 9 ~ 24, 1999
A 15-night cruise aboard Holland America's ms Veendam,
with guests George Takei, Cecily Adams, Jonathan del Arco,
and Eric & Debra Stillwell
Our Itinerary ~
| | | | | |
| --- | --- | --- | --- | --- |
| Day | Date | Port | Arrive | Depart |
| Saturday | Oct. 9 | Long Beach, California | | 5 p.m. |
| Sunday | Oct. 10 | At Sea | | |
| Monday | Oct. 11 | At Sea | | |
| Tuesday | Oct. 12 | Puerta Vallarta, Mexico | 8 a.m. | 5 p.m. |
| Wednesday | Oct. 13 | Zihuatanejo, Mexico | 1 p.m. | 11 p.m. |
| Thursday | Oct. 14 | Acapulco, Mexico | 7 a.m. | 5 p.m. |
| Friday | Oct. 15 | Santa Cruz Huatulco, Mexico | 7 a.m. | 12:30 p.m. |
| Saturday | Oct. 16 | Puerto Quetzal, Guatemala | 7:30 a.m. | 7 p.m. |
| Sunday | Oct. 17 | At Sea | | |
| Monday | Oct. 18 | Cruising the Golfo Dulce, off Costa Rica | | |
| Tuesday | Oct. 19 | Journey through Panama Canal | 7 a.m. | 4 p.m. |
| Wednesday | Oct. 20 | Cartagena, Columbia, South America | 8:30 a.m. | 5:30 p.m. |
| Thursday | Oct. 21 | At Sea | | |
| Friday | Oct. 22 | At Sea | | |
| Saturday | Oct. 23 | Holland America's Half Moon Cay | 8 a.m. | 4 p.m. |
| Sunday | Oct. 24 | Fort Lauderdale, Florida | 8 a.m. | |
Passage must be booked through the Cruise Trek office
to attend all Cruise Trek events.
---
Panama Canal – Sail Into History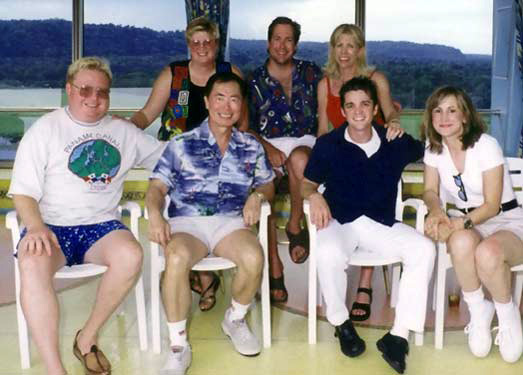 Our guests on-board for the "Epic Adventure" – left to right, front row: Eric Stillwell, George Takei, Jonathan del Arco, and Cecily Adams. Back row: Debra Stillwell, and CT organizers Charlie Datin and Linda Wolf.
One look at the immensity of the Canal and you'll understand why a French company went bankrupt in 1889 trying to excavate it. And what a monumental task it was for the American team that revived the dream in 1902. . . damming a river and broaching the Continental Divide to create Gutan Lake and the Gaillard Cut.
All told, a feat equal to digging a trench 10 feet deep by 55 feet wide from California to New York! It's an epic story.
Uncover Mayan Mysteries
On our way to the Panama Canal from Los Angeles, we made several ports of call in Mexico and one in Guatemala.
"If you don't know the story, it's just a pile of rocks," quipped our guide, as we explored the Mayan cities than lie empty at Tikal and Copan.
Here, the Maya built a civilization beyond belief – great stone temples that were once the centerpiece of crowded, sprawling cities. Then, without explanation, the Maya disappeared, leaving behind only stone skeletons of their once mighty cities.
What happened? The real answer is still buried.
More Cruise Trek Adventure
There's more to this Panama Canal cruise than you ever imagined. After sailing through Gutan Lake in Panama and passing through the Canal, we made a stop in South America – in Cartagena, Columbia, where we made tracks for gleaming emeralds. We then sailed on through the fabulous Caribbean to reveal the incomparable beauty of Half Moon Cay, a private island in the Bahamas.
Excerpt from Eric & Debra Stillwell's 1999 Christmas letter:
In October, we embarked from Los Angeles on our annual Cruise Trek adventure. This year we sailed south to the Panama Canal. Our Mexican ports of call included Puerto Vallarta, Acapulco, Zihuatenejo and Huatulco.
Next we sailed to Guatemala with a stop in Puerto Quetzel where we opted to join an excursion to the northern jungles of Guatemala to visit the ancient Mayan ruins at Tikal. The ruins were amazing and we had a wonderful time until it was time to return to Puerto Quetzel and our rattle-trap aircraft wouldn't work. We had to wait for hours in a jungle airport (guarded by soldiers toting machine guns) for replacement planes to arrive from Guatemala City.
When they finally arrived, they looked like something left over from Indiana Jones and the Raiders of the Lost Ark, but we reluctantly boarded the so-called "aircraft" and began our long, death-defying journey back to the cruise ship, which was now two hours past its departure time. It was dark outside and we soon found ourselves in a thunder and lightening storm and our tiny plane was tossed around the sky in the severe turbulence.
The pilot didn't speak English. There was no flight attendant. We all thought we were goners.
But after awhile, we cleared the clouds and volcano peaks and could finally see the lights of Puerto Quetzel in the distance. We had been told earlier that the airport there had no runway lights, so we were concerned how the pilot intended to land in the dark. We were relieved to discover afterwards that the Guatemalan military had lined the runway with coconut shells filled with burning oil. It was an amazing and memorable trip. The rest of the cruise was anti-climatic by comparison.
The next day, we sailed through Golfo Dulce along the coast of Costa Rica. The day after that we sailed through the Panama Canal. Our next stop was Cartagena, Columbia. And after two days at sea, we arrived at Half Moon Cay in the Bahamas, where we spent a relaxing day at the beach. The next morning we completed our 15-day cruise at Ft. Lauderdale, Florida.
Cruise Trek '99 is definitely one trip we'll never forget!
George Takei on the Tikal Expedition:
George Takei was one of the CT guests on the Tikal shore excursion.
His recounting of the adventure can be found on his personal website.
---