Cruise Trek 2002:
"The Alaska Adventure II"
June 24 ~ July 1, 2002
A 7-night cruise aboard Holland America's ms Volendam,
with guests Wil Wheaton, Ethan Phillips, Denise Crosby, and Eric & Debra Stillwell
Our Itinerary ~
| | | | | |
| --- | --- | --- | --- | --- |
| Day | Date | Port | Arrive | Depart |
| Monday | June 24 | Vancouver, British Columbia, Canada | | 5 p.m. |
| Tuesday | June 25 | Cruise the Inside Passage | | |
| Wednesday | June 26 | Juneau, Alaska | | |
| Thursday | June 27 | Skagway, Alaska | 6 a.m. | 8 p.m. |
| Friday | June 28 | Scenic cruising – Glacier Bay National Park | 7 a.m. | 4 p.m. |
| Saturday | June 29 | Ketchikan, Alaska | 6 a.m. | 7 p.m. |
| Sunday | June 30 | Cruise the Inside Passage | | |
| Monday | July 1 | Vancouver, British Columbia | 8 a.m. | |
Passage must be booked through the Cruise Trek office
to attend all Cruise Trek events.
---
Cruise Trek 2002 – Photos and Quotes
My favorite quote is from Wil Wheaton ~ "Cruise Trek attracts the friendliest and nicest people. . . " Indeed!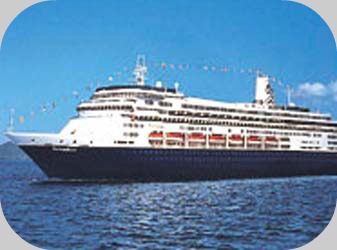 Our ship to adventure – the ms
Volendam
.
Fiona said, "Thank you so much. . . Please keep sailing so that others can experience the same fun!"
From Dave W. . . "As the saying goes, you really had to be there. I can sum up my overall feelings about my first Cruise Trek in one word: awesome! It turned out to be just about everything I had heard, and hoped, that it would be. My wife Pat and son Ben and I had never been on a cruise before, nor had we been to Alaska. Both parts of the experience were wonderful for all of us."
Carolyn P. writes about our evening ashore at a local restaurant and after several of us went hiking & pub-crawling. . . "I don't think The Twisted Fish in Juneau will ever be the same. . . who knows what awaits us in Hawaii." Looking forward to more of the same fun!!
Claudia D. said, "Wil was such a good sport about it all being Wesley's fault and his comedy troupe was so funny, my sides still hurt from all the laughing."
From Michele B. . . "I had a fantastic time! Everyone was super friendly, and the ports were gorgeous. . . I really enjoyed the ST games and shows we had."
Gordon M. . . "Charlie, Deb and Eric once again prepared an amazing event. Denise, Wil, Ethan and the improv troupe were great and I have memories that will be with me and make me laugh forever."
Edward T. . . "I must say the cruise part was fantastic. I wasn't really sure how it would go. So I arrived with mixed feelings but an open mind. Now I know just how great the whole thing is. A real chance of a lifetime."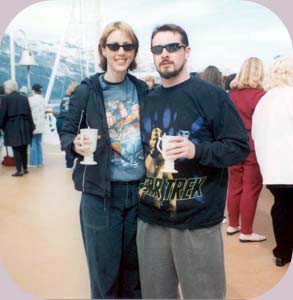 Cruise Trekkers enjoy the scenery – and a refreshing drink.
CT organizer Charlie Datin (center) joins Cruise Trekkers on a shore excursion in beautiful Alaska.
---