Announcing
Cruise Trek 2015 ~ "The Caribbean Oasis"
November 7 to 14, 2015
Plus an optional pre-cruise Kennedy Space Center Tour

Cruise Trek 2016 ~ "The South America Passage"
CT Main Event ~ March 20 to April 3, 2016
And / Or ~ April 3 to 23, 2016
Or Do It All ~ March 20 to April 23, 2016
Update – May 31, 2015:
(Please note: To keep abreast of our ever-evolving events, some past Updates are included herein or linked below.)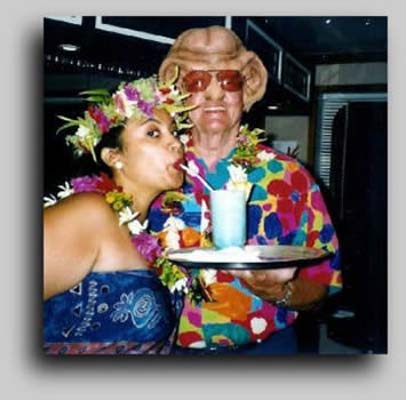 Having fun with an alien aboard the
Windsong
in Tahiti, 1997. Charlie's favorite photo of then-CEO of Holland America Line & Windstar Cruises Kirk Lanterman as an alien (he had a "ray gun", too! – that's what he called his phaser anyway . . .), along with CT friend, the lovely Lydia Lopez.
Hey, Cruise Trek Family,
Our last printed version of our Update had loads of information for our next two events for CT15 & CT16. So in this piece we have kept things a little more simple with additional and/or new information to provide. From our home page, you can navigate to links for the itinerary descriptions (CT15 or CT16) and the booking information sheets (CT15 or CT16). Or just give us a shout and we can smail you the printed info.
Most important for everyone to know is that we have extended our discounts for both of our future events to August 1, 2015. Though, as always, it is best to book ASAP to ensure cabin ideals and perhaps any potential extra "goodies" for CT 16.
For sure, "The Caribbean Oasis" cruise this year will be just a total blast! There is so much activity and fun to be had. . . that you'll simply have difficulty picking and choosing. . . Oh but then you can, of course, just relax and enjoy all with the CT and the newly-acquired BTTF family! – especially as we do have several days at sea!
And as we have said before:
Besides the usual resort-like facilities, there is a rock-climbing wall, a zip line, an ice rink, and an outdoor aqua theatre. And in addition to the legendary and more progressive entertainment provided by this cruise line, our ship offers groundbreaking design with seven distinct neighborhoods built for ultimate enjoyment and entertainment: Central Park, Royal Promenade, Boardwalk, Pool & Sports Zone, Entertainment Place, Vitality Spa & Fitness Center and Youth Zone. Of course, there's also all that CT provides for activities.
That all said, the first new item to announce in this Update is that on the "The Caribbean Oasis" event for November 2015, we will also now have a "Back To The Future" event on board that will be accessible to all CT event attendees – you can see www.bttfcruise.com for more info. The larger part of this opportunity is that the BTTF folks are another group of very kind, generous and fun people with which to experience the common synergies and camaraderie of fandom.
Secondly, we now have a Fort Lauderdale airport area hotel set up for our pre-cruise stays. Please know that this hotel is more of a function than a destination as our cruise event is the main attraction for this itinerary. It is newer, nicer and provides good value as many other hotels in the area are much more expensive.
~ Do You Need Travel Insurance? ~
Cruise Trek offers MH Ross as an example. Click the image below to be taken to the MH Ross website:
Cost for same is $179.00 per room night including taxes (sgl or dbl). Your requested hotel stay will be added to your invoice and is payable by check at cruise final pay date. Cancel fees apply at 30 days prior to arrival. Additional room nights may be at a higher cost.
This hotel, which will be named at a later date, also has a courtesy airport shuttle that operates between 5 am and midnight. Currently you will need to call the hotel for pick-up. Our hotel will also have a transfer available to the pier for $8.00 pp. However, this must be signed up for upon arrival at the hotel.
No worries on all transfers as taxis are plentiful and reasonable in cost as we are not too far from the cruise port and airport. In fact, the pier is only & approximately 6 miles or 10 minutes away. Please know most of us are only coming in one night early unless we are touring Florida more than just the KSC tour or attending the FTL film festival. . . more info below on same.
Thirdly, the Kennedy Space Center Tour attendees will be also staying at this very same hotel. And we will arrive Friday night, November 6th. Depending upon final arrival time, we may join one and all for a pre-cruise wine & beer party by the hotel's pool. Once again, a chance to break bread with all our friends and family of Cruise Trek! We'll provide some platters of munchies – but you'll have to buy your own drinks.
Please know that if you want to add the above KSC package, we've still got space!
To add any of the above, please send us a note or an email and we will take care of all! ;-))
Another cool item for this November's event is that the Fort Lauderdale Film Festival opens November 6th. You can see info for same at www.fliff.com. Though it is my understanding that the festival schedule will not be available until October 1.
Vaughn Armstrong and Dom Keating will join us on our CT 2015 Adventure!
As to actors, so far we have once again one of our favorites, the wonderful and very friendly Vaughn Armstrong with his lovely wife Christine, and the ever fun & energetic Dominic Keating. Plus, of course, the lovely Lolita Fatjo will be with us as well. . . and we are working on one more . . all subject to change.
Please go to IMDB.com for more information on our guests for this event.
Now to Update Cruise Trek 2016 – South America – If you want to totally expand your perspectives of our planet and if you have the ability, please join us on this magnificent and culturally enriching experience that one could ever possibly enjoy. Again, you can either participate in the 14-day or the 34-day segment(s). The latter of which, several of us have already opted to share together.
South America is definitely a whole other world. . . and filled with sights and experiences that will for sure present stories and memories for a long long time. . . Cape Horn, the Falkland Islands, the Chilean Fjords, the rugged mountains of Patagonia, the Argentina's Gauchos and all the other local color and culture. . . all just wonderful!
After having previously experienced South America, I am seriously looking forward to going back once again! The beauty, the people and the numerous cultures are wonderful and inspiring. Experientially, it is a tough one to beat!
Plus, flights are really very reasonable in cost and schedules are not difficult to/from South America. We just recently quoted $900pp from Dulles to Buenos Aires & back from Santiago. In any case, flights are all pretty straight forward and not any more complicated than many of our other far-away journeys. Additionally, our ship overnights in Buenos Aires for one night, which offers flexibility for arrivals. Though we are certainly planning on coming in a few days earlier to experience the local color. . . then Santiago is even more extraordinary!
And if you want to stay after the cruise, we have a great spot in mind. Or you can fly right home if you prefer. Or if you have even more time, sail the entire 34 days with us back to San Diego!
From a previous flyer we wrote the following about South America:
This is yet another Cruise Trek Adventure quite different than what we have done in the last 20 + years. . . It also offers another ship perfect for the setting, featuring a perfect passenger space ratio to allow us to individually and soulfully take in all that this itinerary has to offer. We will be following some of the historic sea route covered by Magellan and Darwin.

This is some of the most dramatic, unspoiled landscape on earth – and not many from our region have had the opportunity to set eyes on it. In addition, this cruise features speakers providing expert presentations on the region's geographic formation, biological development, and human history. This cruise offers plentiful days at sea and a very relaxing port pace.
Kindly,
Charlie
Travel safe and well. . .
PS
On our home page, we have added a couple new links for past CT Family guests – one for Jerry Hardin for his Bone Sculpture and the other for his lovely wife, Diane Hardin and the Joy of acting. Please check them out and tell them Cruise Trek sent you! ;-)))
---
Update – Jan. 20, 2015:
Hey Cruise Trek Family!
Hope your holidays were terrific . . .
So here you have it! CT 15, 16, and possibilities for 17. . . Yup!! Seriously stepping out of our own world. . . That is, taking two serious steps out of our own worlds and with perhaps one step back in (kind of) . . . all for our next out-of-this-world adventures & discoveries!
CT 15 – Caribbean ~
"Hey mon, eef you still got too much ghost in you from the very busy & cool isle voyage, Charlie's Calypso Cruise will warm you up and jive you out. We es setting the sails November 7 in Ft. Lauderdale and go party to Jamaica, Haiti, and me favorite – Cozumel. Dees will be a real taste of de islands! Some of our special events could include: Uhuru's Voodoo Lounge, Red Shirt Reggae Romp, Klingon Limbo Contest and a Jambalaya Jam! You will not be living long and prospering eef you miss dees days to hang out with your fellow Trektafarians."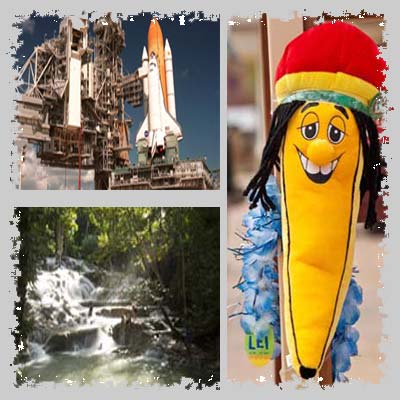 ~ Cruise Trek 2015 Fun ~
Highlights, left to right – Kennedy Space Center, Jamaican marketplace, and Dunn's River Falls.
Indeed yes!!! We allowed ourselves some fun in the above description for Cruise Trek 2015. . . maybe too much holiday grub & grog!? In any case, my spell checker and editors went crazy or at the very least fought me on this one!! Oh well. . . just having fun!
Please read on to discover more. . .
Our Cruise Trek 2015 adventure will be like a good ol' present day contemporary theme park and with many of the adventures we all will seriously enjoy and understand! This trip is certainly something way different than what we have experienced from our last 20+ years of CT family adventures! We toss in a couple great and very different ports we have never seen, plus one that that is sure to bring back fun and fond memories of our last Caribbean adventure back in 2004. I'm sure some of you remember the party we had at Carlos n' Charlie's in Cozumel and/or the tender ride back to the ship – oh my! ;-)
Again, this new and different event to the Caribbean will be onboard one of the world's largest ships. It offers an amazing number of features and programs to definitely keep one very busy 24/7. Of course, there will be plenty of opportunities to simply find a place to chill out as well.
We will set sail on a ship with a rock wall, an ice rink, a surfing pool, a zip line, and a boardwalk loaded with eateries. There are also grand onboard shows including some that take place in an outdoor pool with outdoor theatre style seating and so much more! Then we have the ports of call that include the "Private Destination" of Labadee in Haiti, where you can spend an idle day on a secluded beach with your CT family favorites or soar through the air on the longest zip line in the Caribbean! Then in Falmouth, Jamaica, you can visit the old world port city of Dunns River Falls, visit more beaches, or head off to Montego Bay or Ocho Rios.
And all of this can be done by private or ship tour. Then we sail to Cozumel, which offers more beautiful beaches or a ferry ride to the mainland to educate yourself about Mayan history and ruins. Of course, during the week we will also offer ST: CT events with special guests. AND on top of that, if all comes to fruition, we will produce a BTTF event on the very same cruise. How about that for a crossover genre, if you will!!?? All in all, it will surely be very "engaging" and full of camaraderie.
Then on top of the above cruise adventure, we have an optional two-night pre-cruise tour to the Kennedy Space Center (KSC), the world's largest launch facility. This tour starts with a meet-up in Orlando for an overnight at a local hotel. Then we'll have breakfast in the morning, transfer to KSC for a day full of exploring and then transfer again to our hotel in Fort Lauderdale that same evening for an overnight stay. We will board our ship the next morning or afternoon.
Just to let you know. . . upon polling the CT family, it seemed that a less expensive, more relaxed event was desired. I understand our preference for togetherness and camaraderie, as well as some place nice and warm. The Caribbean Oasis may be the exact ticket we all need!! To get you in the appropriate mood, please take a listen to the Banana Boat Song – Beetle Juice Day-O on YouTube or search YouTube with that same phrase. It did for me. . . Just imagine what the musical trio of Menyuk, Moore & Dickson could do to the same!! LOL!
CT 16 – South America ~
For Cruise Trek 2016, we have the "The South America Passage", which is sure to be magnificently enthralling, as well as culturally and environmentally so divergent from our own world. . .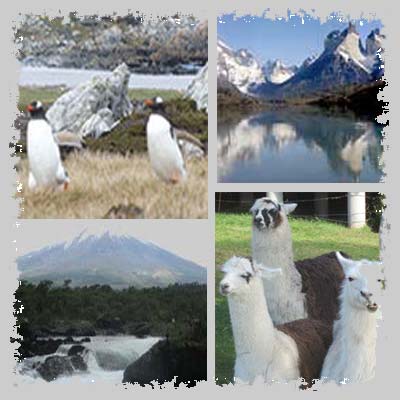 ~ Cruise Trek 2016 Fun ~
Highlights, left to right – Stanley penguins, Punta Arenas National Park, Osorno Volcano in Puerto Montt, and Llama farm.
Imagine our informal Cruise Trek Family morning breakfast gatherings (Lido area or on deck) or dining in our staterooms while Ushuaia, the southernmost city in the world, slides into view. We'll be in Tierra del Fuego, the "Land of Fire," so named by Magellan some 400 years ago when he spied mysterious flames dancing on the dark, distant shore. The flames, it happens, were the signal fires of the Alacalufes people, who to this day still pursue ancient tribal ways.
And then on another day, we will enter Glacier Alley, where massive glaciers – Italia, Alemania, Francia, Romanche – grind their way to the sea from high in the Darwin Range. From our vantage point in the Crow's Nest Lounge high atop the ship with a surround of windows affording panoramic views, we will watch in awe as towers of ice the size of buildings break off and crash into the sea.
Then envision entering Beagle Channel, where it'll be easy to see why Charles Darwin was so enchanted by the region during his exploratory cruise in 1832. Wildlife is everywhere. We step ashore at Punta Arenas to stroll through the nesting grounds of millions of chattering Magellanic penguins, coming within yards of busy parents and their demanding, fuzzy fledglings.
Do we want adventure in new places? The South America Discovery may fill our bills, as they say!!
So many places will offer scenic cruising and appear seemingly untouched by humans. . . It is simply serene and the magnificence is sure to inspire you. . . imagine again. . . in the wakes of Magellan and Darwin… this "Passage" will feature speakers providing expert presentations on the region's geographic formation, biological development, and human history. In fact, we may even have our own private CT guest lecturer from International Big History Association aboard. . . the IBHA is an organization that promotes the science with more emphasis from the perspective of the Universe and not just from a merely human existence perspective. Of which Bill Gates helped to jump start. . .
CT 17 – Destination ???? ~
Then for a total time warp we go to Cuba in 2017 (of course, this one is subject to change as maybe Asia or another European River or big ship cruise to the Black Sea might make more sense (depending upon politics, economics and more). . . more explained below. . .
I have not been to Cuba before and this would be my first time there as well. . . but in doing the research to produce an educational and "People-to-People" (as defined and required by the US Dept. of State) event, it just sounds like it will be an amazing experience all by itself. The stories I have heard from others who have experienced Cuba are just a trip – wow!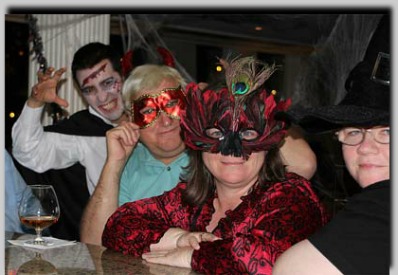 IDIC – Infinite Diversity In Infinite Combinations – as demonstrated by Cruise Trek Family members sharing the fun and camaraderie of celebrating Halloween in Paris on the 2013 Seine cruise.
Ok I will share one that I am sure will pique your curiosity: The tour owner/operator (who is a lovely man & friend & neighbor) loves to share the about the time when he had a New York Bar Association group go to Cuba for a cultural learning experience – again as defined by the Dept. of State. Anyway, at a dinner reception (very informal) with many locals, one NYC attorney member asked another local and Cuban attorney how divorce was handled.
The Cuban said, "I do not understand the question." The Big Time NYC attorney asked, sort of self-consciously or meekly (if that is possible), "How long does it take to process a divorce?"
The matter-of-fact local said, "Well, you go downstairs to the street, meet an elder lady, sign a paper and in two minutes it is done!"
And so, the BT NYC guy incredulously says, "Well, what about the contract of dissolution, asset division, child custody and more????"
The local says, "Huh? We don't have any assets, the 'village' all raises our children and so I am not sure what you are asking."
Anyway, indeed the above may be a generalization. . . though things are less complicated, if not in a time warp. For me, it sounds all very endearing if not simply like it used to be when I grew up. . . where it always took a village. And even with the story above and the hard life there, the people are gracious and caring. Despite what we may call hardship, the energy, dance and song of the culture is just amazing. . .
By the way, some of the best people I know are attorneys. . . I was just taking a little fun & dramatic license with all. . . Right, Eric and Bonnie!!??
Though to explain further, currently, Cuba is silly expensive. For instance, we could go to So America for two weeks and including airfare, we would pay just about the same for a week in Cuba. I am hoping by the time we go things, are a bit more politically relaxed and we will see lower costs. Though I just hope that when that time comes around, we'll still see the lovely but time-warped Cuba of today. . . Could remind me of a ST episode or two.
In any case, the really great thing about all these new adventures is that you can do one, two, three or all four options. Please see the itineraries, linked in the menu at the top of this screen, to complete your understanding of all.
Oh yes, some of you may have heard already, but I just wanted to thank again CT family members Diane & Andrea for joining us in a "Charlie de Tour Road Trip" this last fall – named as such because it is told that a certain somebody has never seen a road that one should not want to take. ;-) Even better was that along the way we were able to hook up with even more CT family!
So, for final housekeeping – we offer our apologies for the long delay in getting all the future event information to you. We have been juggling supplier and timing issues for all. . . plus, R & D trips & weddings to attend. . . and, well, the rest of life kept us pretty busy too!! ;-))
Running out of room here to explain more . . . but, maybe we could do another CT family Q & A gathering on board??!! ;-)) With those built-in wonderful days at sea, I am sure we will have time for loads of comradery and interaction. . . like as compared to our hugely busy event to the British Isles last year!
In any case, we are looking forward to sharing and enjoying many more adventures and expanding our perspectives. . .
Best of New Years to you all. . . Make it so. . .
Travel well & safe always . . .
Charlie
PS
My sincere appreciation goes to family CTer Dr. Curt D. for his "Hey, Mon" paragraph and others for inspiring and helping to get this material out to you all.

And, of course, to the newbies to the CT family. . . Welcome aboard! Many of us have sailed together so many times and/or additionally engaged outside of our events that we have certainly become a family. . . And again, I for one would not have it any other way! ;-))
Charles C. Datin, Cruise Trek
Mail to – PO Box 4277 Malibu, CA 90264
Phone – (310) 456-7544
Website – www.cruisetrek.com
SKYPE – cruisetrek
Email: cruisetrek@aol.com
---
Update – Nov. 27, 2014:
Hey, CT Family!
Hope you all had a Happy Thanksgiving!! I am stuffed after two big meals in one day!! ;-)))
Information on Cruise Trek 2015 to "the Caribbean", Cruise Trek 2016 to "South America", and Cruise Trek 2017 to possibly "Cuba" coming soon!!
Be well & Travel safe. . .
Charlie
---
Update – Oct. 9, 2014:
Hey, CT Family!
(Note sent to CT past cruisers 10/6/2014)
Again, very sorry for any duplicate emails. . . I simply gathered these email addresses from the last 5 years' events/adventures. . . and some of you have done more than one!! ;-)))
~ Are You On the Cruise Trek Mailing List? ~
If you have joined us on one or more Cruise Trek adventures or you are currently receiving eMail or Snail-Mail from us, we have you on our mailing list.
But if you're not already hearing from Cruise Trek and you would like to learn more about upcoming events, please sign up by clicking the link below and filling out the form.
Join the CT Mailing List
In any case, I simply had a question for you and i needed as much feedback as possible. . . Hence my wide reach ;-)) Plus, I so enjoyed the Q & A on our UK sailing this last July that i seriously wish it had gone on longer! ;-)) Next time we will endeavor to have more Q & A.
Anyway, the one thing I failed to ask you all. . . What would you think of a flight and land tour to Cuba???
Keeping in mind that this destination, group size, costs, time of year and other restrictions may be a limitation for some . . but, I have always wanted to explore this country, culture & community by way of an educationally, federally licensed and structured trip. . . and perhaps doing it before and if Cuba ever opens up.
That said, we are still working on future events. . . seems we have 2016 pretty close to decided. . . just 2015 has been bounced about. . . but, we do certainly have some fun and/or fascinating adventures in mind.
Hope you are all very well. And look forward to seeing you again soon.
Oh. . . we just returned from a terrific 2-week road trip with and/or including some special CT family engagements. . . It was so cool! The Sierras, Lake Tahoe, Mt Shasta, Crater Lake, Ashland, the coast of Oregon to the coast of California & the magnificent Redwoods. . . Luv it when those CT family extras come into play! ;-)
Again Input is always appreciated. . . Tis time especially for Cuba, though of course on other destinations as well. . . and therein we try to find the "balance of all or of the whole".
As always. . . travel safe & sane. . .
My best to you all,
Charlie
---
First page of past CruiseTrek Updates