Cruise Trek 2009:
"Back to Bermuda"
May 10 ~ May 17, 2009
A 7-night cruise aboard Norwegian Cruise Line's Dawn,
with guests Dominic Keating, Vaughn Armstrong, Robin Curtis, Ron Moore,
Lolita Fatjo, and Richard Arnold
Our Itinerary ~
| | | | | |
| --- | --- | --- | --- | --- |
| Day | Date | Port | Arrive | Depart |
| Sunday | May 10 | New York City, USA | | 4 p.m. |
| Monday | May 11 | At Sea | | |
| Tuesday | May 12 | At Sea | | |
| Wednesday | May 13 | Kings Wharf, Bermuda | 8 a.m. | |
| Thursday | May 14 | Kings Wharf, Bermuda | | |
| Friday | May 15 | Kings Wharf, Bermuda | | 5 p.m. |
| Saturday | May 16 | At Sea | | |
| Sunday | May 17 | New York City, USA | 8 a.m. | |
Passage must be booked through the Cruise Trek office
to attend all Cruise Trek events.
---
Cruise Trek 2009, "Back to Bermuda" Highlights
By Dee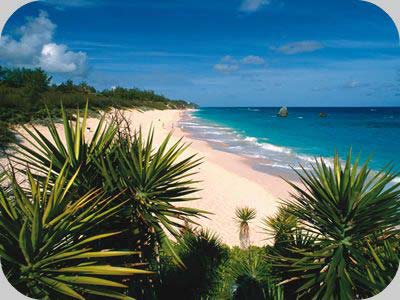 The longest beach in Bermuda, beautiful Warwick Long Bay runs a half-mile in length.
Photo courtesy of Bermuda Department of Tourism.
CruiseTrek 2009 took us "Back to Bermuda." But, before we sailed, it was all about the Big Apple! Many CT family members arrived early in New York City to get in a few days of sightseeing – and NYC never disappoints on that front. There was a DUCK tour, the Empire State Building, walking around Central Park, enjoying the night lights of Times Square, and, of course, the new movie Star Trek (Paramount, 2009), with Chris Pine and Zachary Quinto!
CT fans and friends gathered at a quaint Bistro just a few blocks from Times Square for a mini-convention with our guests (plus an extra one to boot!) and our usual Bon Voyage dinner the night before we sailed. Special guests Dominic Keating, Robin Curtis, and Vaughn Armstrong spoke, signed autographs, and were joined for just this special evening by JG Hertzler. Long time CT guest Lolita Fatjo, MC'd the events as only she can, and a good time was had by all as we reconnected with each other and welcomed our newbies to the family. After the tasty dinner, many headed off to catch the IMAX showing of the new movie Star Trek (2009) over in Lincoln Square. How many of you caught Richard Arnold in his cameo?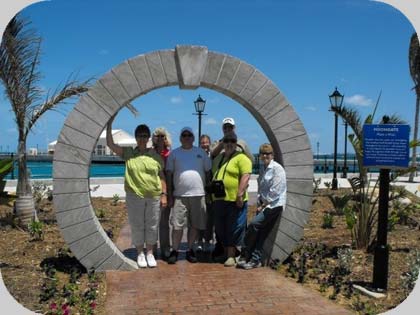 Cruise Trekkers soak up some luck in a Bermuda Moon Gate.
Photo courtesy of CT Staffer Carolyn Peters
On Sunday, May 10, we boarded the beautiful NCL Dawn for our seven-day adventure across the way to Bermuda. Sailing out of NYC harbor is a sight to behold. And, thanks to some late arriving groceries, we sailed past Lady Liberty when the sun was perfectly positioned for truly spectacular photos. We spent the next two days at sea enjoying fun events like Pictionary, Family Feud, Password, Jeopardy, and Pyramid. We also got to know our special guests a bit more with an Actors' Panel and very entertaining presentations by the multi-Emmy winning Ron B. Moore and Richard Arnold.
A special treat was also in store for those passengers interested in learning a bit more about writing. Our own Professor Curt Duffy (with assistance from Lolita) led several writing workshops – with several students sharing their creative works with the group at the end of the cruise!
We arrived in breathtaking Bermuda on Wednesday to find a spot of rain messing with our schedule of events. But, no worries! We moved our CT excursion at 9 Beaches Resort to the next day, leaving Wednesday as a "run around and see what you can see" day. The weather cleared pretty quickly and made for good walking. Some folks ventured to the Aquarium and the Crystal Cave via a bus ride over to Hamilton while others took the ferry in the same direction, looking to enjoy the local flavors in some interestingly-named places of interest. There were places named after pickles, pigs, onions, and other fun British-influenced bits and pieces. Turned out to be a great day!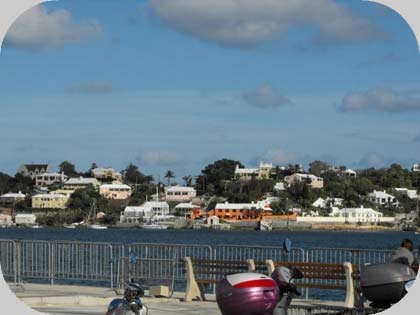 A view of Hamilton Harbor.
Photo courtesy of CT Staffer Carolyn Peters
Thursday was spent by many enjoying the water and beautiful pink beaches. The sun was shining, the ocean breezes were blowing, and the air was warm and fragrant – oh, and the rum swizzles were flowing! Friday was our last day in the tiny island country and some headed by ferry to the quaint town of St. Georges looking to get in some last-minute shopping and eating. Just prior to sailing, the entire CT family of travelers piled up on the helipad of the NCL Dawn for a group photo, then watched as we set sail back to NYC leaving the stunning scenary of Bermuda behind in our wake.
Our last day at sea included card games, pajamas, and a wonderful Entertainment Hour, where we were treated to sassy readings by Dominic and Vaughn, very personal and humorous sharing by Robin, and music from Ron and Vaughn (also joined by Vaughn's son, Jace, on bass – after just learning the instrument and songs from Ron!). Shortly after our wonderful round up, individuals begrudgingly retreated to their cabins to pack up for home before enjoying one last dinner with their CT family.
We arrived back in NYC on Sunday, May 17, to find it the same as we left – everything hustling and bustling, cars honking, and people barking orders at the cruise terminal. Another great CT family adventure came to an end with plenty of good memories and talk of what comes next!
---