Cruise Trek 2001:
"The Ancient Treasures"
June 26 ~ July 8, 2001
A 12-night cruise aboard Holland America's ms Rotterdam,
with guests John de Lancie, Jerry Hardin, Robert Picardo, and Eric & Debra Stillwell
Our Itinerary ~
| | | | | |
| --- | --- | --- | --- | --- |
| Day | Date | Port | Arrive | Depart |
| Tuesday | June 26 | Istanbul, Turkey | | 2 p.m. |
| Wednesday | June 27 | Istanbul, Turkey | | 1 p.m. |
| Thursday | June 28 | Scenic Cruising | | |
| Friday | June 29 | Alexandria, Egypt | 6 a.m. | 8 p.m. |
| Saturday | June 30 | Haifa, Israel | Noon | 11 p.m. |
| Sunday | July 1 | Ashdod, Israel | 6 a.m. | 7 p.m. |
| Monday | July 2 | Cruising | | |
| Tuesday | July 3 | Kusadasi, Turkey | 7 a.m. | 6 p.m. |
| Wednesday | July 4 | Piraeus, Greece | 8 a.m. | 11 p.m. |
| Thursday | July 5 | Cruising | | |
| Friday | July 6 | Dubrovnik, Croatia | 7 a.m. | 5 p.m. |
| Saturday | July 7 | Venice, Italy | 8 a.m. | |
| Sunday | July 8 | Venice, Italy | Morning | |
Passage must be booked through the Cruise Trek office
to attend all Cruise Trek events.
---
Cruise Trek 2001 Highlights
By Dee Harrington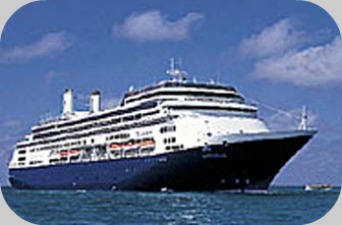 Our ship to adventure – the ms
Rotterdam
.
It was a trip of a lifetime!
Cruise Trek 2001: The Ancient Treasurers was aptly named – because everything we saw was ancient and a treasure. We started in Istanbul, Turkey, and continued to Egypt, Cyprus, Greece, Croatia, and finally Venice, Italy. Can you imagine – pyramids, mummies, castles, volcanoes, the Parthenon, Olympic stadiums, ancient theaters, and streets of water! But on top of these incredible ports of call – there was Trek!
Charlie and his wonderful staff put together some really fun Trek activities during our "at sea" days that included "Who Wants to be a Latiniumaire," "Cruise Trek Survivor," Actor Panels, Improv Workshops, "Cruise Trek Family Feud," and a very special performance by Jerry Hardin as Mark Twain.
Because this was a much smaller CT (from others I've been on), the events were more personal and intimate. Breakfast with the group was just that – personal! We talked with Bob Picardo about meeting his Italian voice-dubber. We heard all about the de Lancie family's bicycle trip through Amsterdam, Eric Stillwell's many escapades on the sets of the series and movies, and how Diane Hardin once had Leonardo de Caprio and the late River Phoenix as students in her acting studio in Los Angeles.
ALEXANDRIA, EGYPT:
Long before the birth of Christ, travelers have been drawn to the Great Pyramids, the Sphinx and the Nile. The Pharaohs, the Greeks, the Romans, the Arabs, the Turks and the British have all ruled Egypt, and modern Egypt is an amalgam of these legacies and the influences of Islam and the 20th century.
My favorite part of the Trek activities was the Improv Workshops with Diane Hardin. We learned to listen and support each other while on stage, and I even got to play out a love-triangle scene with Keegan de Lancie (who has grown up a lot since I taught him and brother, Owen, to play Uno on CT94: Alaska). Kudos to Diane, who is a truly gifted acting coach and a dynamic lady.
When we were not "at sea," there were some pretty incredible sites to enjoy. Istanbul was fascinating. The history of this incredible city (the only city in the world built on two continents – Asia and Europe) is rich. Parts of the old city walls that were used to keep out the various conquerors of old Constantinople are still standing today. Then there is the Grand Bazaar – rows and rows of gold, linen, and other Turkish delights complete with each owner begging you to "Come look."
Cairo was incredible because of the Great Pyramids and Sphinx. We in the United States just do not have a true concept of "old." You realize that when you're standing next to something that is estimated to be well over 5,000 years old! Cyprus was warm and sunny. Kusadasi was very similar to Cairo in that you got to walk through a town (Ephesus) that is at least 2,000 years old and is mostly still intact. I actually sat in the theater in which the Apostle Paul delivered his speech to the Ephesians as recorded in the Bible.
KUSADASI, TURKEY:
Of Turkey's (perhaps of all of Europe's) hundreds of ancient cities and classical ruins, Ephesus is the grandest, best preserved and most substantive. Indeed, it's the spunkiest classical city on the Mediterranean. Ephesus was Ionia, a flourishing cultural center during the Greek Empire, and a busy provincial capital during Roman times.
Athens, Greece, was congested and humid – but well worth it when you saw both the Olympic Stadium (built for the first modern Olympic games in 1896) and the Parthenon. Climbing up the hill and standing next to it was very cool. But seeing it from the ship as we departed at 11:00 p.m., complete with a beautiful full moon above, it was breathtaking! Of course, I'm sure everyone on the ship wasn't watching that beautiful full moon on the arm of an equally beautiful Second Officer – but that's another story!
My most favorite ports of call were Rhodes and Santorini. These two beautiful and picture-book towns almost seemed too good to be true. The town walls of Rhodes looked as if they were built a few years ago as opposed to several hundred years ago – and the Palace of the Grand Masters has been carefully kept over the years. But what impressed me the most was the friendliness of the people. I enjoyed lunch at an outdoor café right under the Clock Tower. The owner of the café sat down with me for nearly half an hour to discuss life in general. He guessed my heritage (half-Native American, half-Irish) just by looking at my facial features. He seemed rather interested in learning about Star Trek – but I had to get back to the ship before I could get out much detail!
ISTANBUL, TURKEY:
You'll easily sense that Istanbul is the heart of Turkey, whose dateline spans 3000 years. In fact, it's the place where Europe and the Middle East meet – where The Black Sea and Sea of Marmara come together by the Bosphorus Strait. And not only do you have the history of Alexander the Great, Byzantine and Ottoman Empires, you have the present bursting all over.
Santorini was probably the most beautiful city I've seen in a long time. It is perched high on top of the rim of an old volcano (whose last eruption claimed the lost continent of Atlantis, according to some of the residents). This was the only place we anchored instead of docking. That just means you got to check out one of the big lifeboats that were used to tender us passengers back and forth. The only ways up to the city are by donkey, uphill walk (on the same path used by the donkeys), or cable car. After my experience with the camel in Cairo (Don't ask!), I chose the cable car. I walked and walked all over that town, enjoying the incredible views of the beautiful turquoise water below. Finally, I had to retreat to the ship because – there are no trees to shade you on the rim of a volcano.
What can I say about Dubrovnik, Croatia? I guess I could ask how on earth anyone in their right minds would bomb such a beautiful and quiet seaport town? But that is what happened in 1991-92 when Croatia left Yugoslavia. Fortunately, the Old Towne has been restored, and we were able to enjoy some traditional folk dancers and musicians in a restored theater. Stepping into this place almost felt like stepping back in time – to a more gentle time where the art of singing and dancing was the highlight of the culture. And the water was so clear – I found myself resisting the urge to jump in and play water polo with the children!
VENICE, ITALY:
Venice is one of the few great cities that can be truly described as unique. It survives against all odds, built on mud banks amid tidal waters of the Adriatic and regularly subject to floods. During the Middle Ages, under the leadership of successive doges, Venice expanded its power and influence throughout the Mediterranean to Constantinople (modern Istanbul). The immense wealth of the city was celebrated in its unique and amazing art and architecture. The riches of St. Mark's square alone bear witness to Venice's position as a past world power.
Getting to Venice and having to pack up to go home was depressing. The CT passengers and actors had become family, and I wasn't ready to leave that and return to real life. I particularly wasn't ready to leave that beautiful Second Officer that I hooked up with – but, again, that is an entirely different story!
I could write pages and pages on this incredible trip – but the postage for Charlie's mailer would break the bank.
The next CT adventure will return to Alaska and, I hear, may head to the Hawaiian Islands soon after! But I'll have to let someone else report on that because I plan to be living in Europe soon after the first of the year! (Yes, it has to do with that Second Officer!)
If you're interested in sailing on a CT cruise, please contact Charles Datin at CruiseTrek@AOL.com and be sure to tell him that Dee sent you!
---