Cruise Trek 2003:
"The Hawaiian Exploration"
June 1 ~ 8, 2003
A 7-night cruise aboard Norwegian Cruise Line's ms Norwegian Star,
with guests Chase Masterson, Vaughn Armstrong, Manu Intyrami, Wil Wheaton, George Takei, Lolita Fatjo, Richard Arnold, and Ron B. Moore
Our Itinerary ~
| | | | | |
| --- | --- | --- | --- | --- |
| Day | Date | Port | Arrive | Depart |
| Sunday | June 1 | Honolulu, Oahu | | 8 p.m. |
| Monday | June 1 | Hilo, Hawaii | 6 a.m. | 1 p.m. |
| Tuesday | June 3 | At Sea | | |
| Wednesday | June 4 | Fanning Island | 9 a.m. | 3 p.m. |
| Thursday | June 5 | At Sea | | |
| Friday | June 6 | Kahului, Maui | 1 p.m. | 10 p.m. |
| Saturday | June 7 | Nawiliwili, Kauai | 8 a.m. | 6:30 p.m. |
| Sunday | June 8 | Honolulu, Oahu | 8 a.m. | |
Passage must be booked through the Cruise Trek office
to attend all Cruise Trek events.
---
Cruise Trek 2003: The Inside Story
By Dee, Kevin & Charlie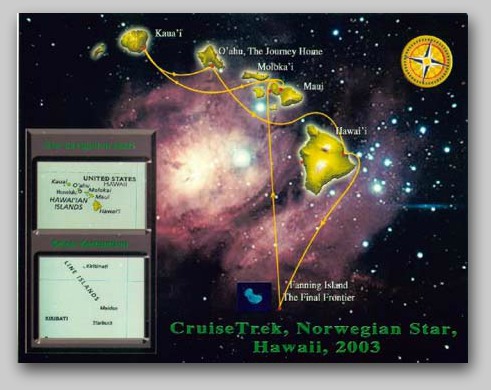 A map of our journey, aboard our very own "starship" – the
Norwegian Star
.
Hawaii – the land of sun, pineapple, Pearl Harbor, the hula, and Trek fans!
Cruise Trek 2003 started in Honolulu on the Hawaiian Island of Oahu. Most CT passengers, crew, and guests arrived early in Honolulu to enjoy a few days of sightseeing – and a Star Trek land convention – prior to boarding the Norwegian Star for our seven-day tour around the islands.
The weather was clear, humid and gorgeous. Still, most cruisers pulled themselves off the beach to attend the convention, where the local Honolulu sci-fi fans dressed in Star Wars costumes to greet us and local media covered the event on the evening news. The CT actors and crew gave talks, signed autographs and generally had a great time mingling with the Hawaiian locals, who were thrilled to have their favorite Trek actors in their midst.
Later that night, Cruise Trek threw an amazing bon voyage luau right on the beach in Waikiki – complete with Tiki torches, hula dancers, fire dancers, Hawaiian musicians and delicious food that included the traditional pit-roasted pig and fancy cocktails topped by fruit and umbrellas – a motif that would continue throughout the cruise.
That night, long-time cruiser, Dee Harrington became this cruise's official MC since our usual MC, Eric Stillwell, had to miss the cruise due to his commitments as Associate Producer of The Dead Zone.
Dee proved what we've known all along – that she has the gift of gab and is wonderfully funny. She kept the crowd in stitches as she introduced a wonderful array of Cruise Trek guests – Chase Masterson, Vaughn Armstrong, Manu Intyrami, Wil Wheaton, George Takei, Lolita Fatjo, Richard Arnold, and Ron B. sMoore.
After partying late into the night, cruisers were able to sleep in before boarding the Norwegian Star on yet another perfect Honolulu afternoon. It was one of the few "sleep in" opportunities that cruisers had all week. Before the ship had even sailed, the entire Cruise Trek group had assembled in the ship's huge ballroom, where they mingled, sipped cocktails and waited for the ship to sail. Once we left our mooring, the CT group was treated to a breathtaking view of night-time Honolulu through huge glass windows.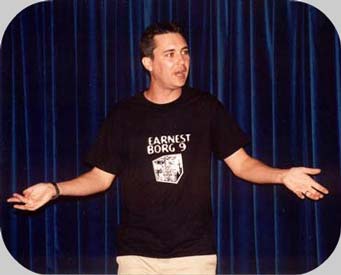 Wil Wheaton is always entertaining!
Games played a big part of the at-sea time. We normally get Deb Stillwell to do the games, and she'd stayed home with hubby, Eric. So we roped Dee into running these as well.
Dee turned out to be a real Bob Barker, leading the Trekkers through competitions and events like actors panels, Trek Family Feud, Trek Not-So-Newlywed Game (which Wil and Anne Wheaton won!), Trek Pictionary, a Trek Scavenger Hunt, a Writing and Auditioning workshop, several cool Visual Effects slideshows, and lots of entertainment, stories, and book readings!
After an overnight sail, we awoke the next morning on the big island of Hawaii, home to the Kona coffee bean and the active volcano, Kilauea. Several folks rented cars to make their own way to Volcano National Park. Wil Wheaton uploaded his pictures on his website (www.wilwheaton.net) and they are very cool – as are his other CT 2003 pics. Be sure to check them out!
Back on the ship, we sailed 1200 miles south (halfway to Sydney!), to Fanning Island, in the Republic of Kiribati. This large coral atoll is perhaps one of the most beautiful, unspoiled tropical islands on earth. It's actually the island that appears on the title card in Gilligan's Island. And it looks even better in real life. One highlight of the cruise was splashing in the crystal clear and warm water with Wil and Anne, Chase, Lolita, and assorted Cruise Trekkers on this island paradise. All too soon, it was back onboard for the long trip north to US waters.
The long sail was brightened by the sight of occasional pods of dolphins racing alongside the ship and by the great company on board.
A simply magical moment of the cruise was an impromptu pajama party that Chase and Lolita planned one night at sea. Three huge meeting rooms were taken over by hordes of PJ-clad Trekkers. Fingernails were painted by Lolita, and facials were given by Chase. At some point, one enterprising CT passenger dragged a cocktail waitress into the festivities. She worked hard, got the party cooking, and made a fortune in tips from adults in their bedtime attire.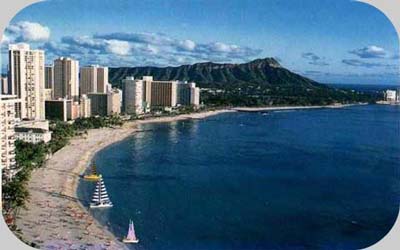 Beautiful Diamond Head in Honolulu on the island of Oahu.
The night turned even crazier when the whole pajama party decided to invade the karaoke bar, still in their jammies with teddy bears in tow. The looks on the faces of the regular patrons were absolutely priceless as their stage was stolen by tipsy & non-tipsy Trekkers – all determined to sing their lungs out. A group rendition of American Pie could only be termed a definite showstopper.
Next stop was Maui. Many cruisers took off on pre-arranged shore excursions. Dee went and chased a real live (& big!) shark around Molikini reef – while others rented cars and explored the gorgeous island. Former Maui resident Wil took his wife on a tour of his old stomping grounds.
While exploring the lava flows at the south end of the island, a group that included Chase and Lolita stopped off at a beautiful beach for a refreshing dip – only to discover that it was a nude beach. This did not stop the intrepid Cruise Trekkers from going boldly where no clothes had gone before, and the crew had a refreshing swim – even if they kept their eyes focused on their toes!
The cruisers spent their last day on Kauai, the wettest spot on Earth. And sure enough, the day alternated between a beautiful sunny day and five minute downpours. The lush, emerald green island gave each and every cruiser sights that they will remember forever – cliffs, ocean, waterfalls, orchids, rivers, lakes, and fields of flowers.
As for the cruise, the magic of the event was hanging out with our Cruise Trek extended family, singing in the Karaoke Lounge, dancing in Dazzles, playing games, having a Pajama Party (which we all hope will become an annual event!), and enjoying each other's company – this includes the very engaging and outgoing actors and behind-the-scenes guests. Trekkers from different walks of life, different countries, and different age groups all came together because we have this love of Trek and Gene Roddenberry's vision – and from that one thing, we easily find all the other things in common and forge friendships that last a lifetime.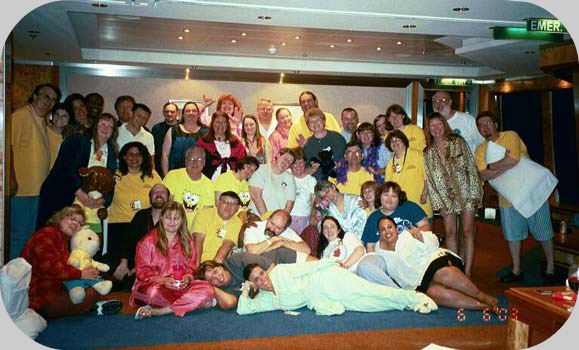 CruiseTrekkers gather at the pajama party, hosted by Chase Masterson and Lolita Fatjo.
CT 2003 sadly came to a close as we returned to Oahu on June 8. Packing is a pain but leaving behind your old and new friends is worse.
Not to fear, CT 2004 has been scheduled for the Western Caribbean in November – and many of us have already committed to going. It has become not only a great way to meet Trek actors and special guests, meet and spend time with other Trek fans, see really great places you may not normally get to, and have fun – it has become a family reunion where, like all families, we get bigger and closer each and every year.
Hope to see you all then if not before!
---