Our American paddlewheel cruise for 2019 includes – from left to right – Louisiana musicians, New Orleans' French Quarter, Civil War history at Vicksburg, cruising the Mississippi River.
Update – September 27, 2018:
(Please note: To keep abreast of our ever-evolving events, some past Updates are included herein or linked below.)
Hailing Cruise Trek travelers,
We hope this latest update find you and yours very well. While busily readying for our 2018 adventure on the Danube River in Romania, we have found some time to announce next year's cruise event. Honestly, over the years, we have had many requests to stay closer to home and more so for one of our own North American river destinations.
Basically, the opportunities have now come together to do exactly that! So, we proudly announce the 2019 event will be aboard a genuine steamboat paddle wheeler on the Mississippi River from New Orleans to Memphis!
To offer more apt descriptions of this remarkable opportunity is that the lower stretch of the Mississippi, from carefree New Orleans to vibrant Memphis, is the River of Legends – from the history of our beginnings & evolution with the river of centuries-old shaded oak trees, elegant antebellum plantations, cobblestone streets, and Victorian mansions, to hearing the river's music in rock and roll, blues, and jazz.
Here it is necessary to note that in addition to the Trek aspect of this cruise, there will be a Rock & Roll theme on this sailing! At the same time, just imagine the opportunities the senses will have to savor the culinary diversity with a host of distinctive Creole and Cajun delights. We will also reflect upon the worlds and words of Mark Twain from his revered book, Life on the Mississippi.
So, come celebrate New Orleans' unabashed and unapologetic joy in the fine restaurants and sidewalk cafés of the French Quarter, the jazz clubs lining Bourbon Street and the strolling musicians in Jackson Square. Music is also the heart and soul of Memphis – from Elvis' inspiring Graceland to the blues joints of Beale Street. The city's National Civil Rights Museum chronicles a very long journey to freedom and is also a must-see. The Smithsonian's Memphis Rock 'N' Soul Museum records the rise of a beloved musical art form. And of course, explore the lives of Native Americans with advanced cultures and trading routes building large cities and pyramids.
You can also see these links for more descriptions of the itinerary and the booking information form for Cruise Trek 2019.
Reminder to the 2018 Danube River travelers – cruise documents will be sent out from AMA Waterways directly to US and Canadian addresses 2-3 weeks prior to sailing. The others will receive e-docs. We will also carry to you in Bucharest a similar "hard" doc packet.
To those we will see in October this year – see you soon!! Can't wait!!
And to those of you we will see in New Orleans next year – looking forward to that time!
Be well, travel safe.
Charlie & Aaron
Charles C. Datin, Cruise Trek
Mail to – PO Box 4277 Malibu, CA 90264
Phone – 310-456-7544
Website – www.cruisetrek.com
SKYPE – cruisetrek
Email: CruiseTrek@aol.com
Any time you wish to be taken off our list(s), simply shoot us an email and we will handle directly. We don't sell, give away or share our lists with anyone never ever.
---
Update – July 1, 2018 ~
Hey there, CT Family,
Just an FYI and some of you already know . . .
In any case, some months ago we mentioned the opportunity to sail a Trans-Atlantic crossing with us and back from Rome, Italy. This sailing takes place the day after Cruise Trek 2018 Danube II. A great relaxing 2-week cruise at a wonderful price on a newer ship.
So, pricing is in . . .
Please contact us if you are interested in joining us. Availability and prices are subject to swift changes until booked and paid in full. Reasonable airfares are also available through the cruise line.
Best regards,
Charlie
---
Update – July 1, 2018 ~
Hey there, CT Tribe,
Cruise Trek friends setting sail on the 2018 cruise will be wearing this stylish fleece-lined jacket, modeled by our CT family friend Eric Menyuk!
We have been busily working on everyone's files and more. And so a couple questions came up regarding this year's CT Family garment. Of which we need answers (via eMail, please) from you by July 15th.
In any case, we are hoping to produce a fleece-lined coat/jacket for all of us this year. And as an FYI they will run a little larger than normal. This is actually a good thing as then, if needed, you could also wear a sweater underneath as well. Indeed, the idea of "layering" is advisable. We also believe they will be water-resistant (if not better).
So, the first question that comes up is because we have a choice of Navy blue (a very dark Navy) or black. Officially, we are going with black. And we will have our embroidered CT info on it, as usual. It is simply better looking.
However, if there any of you who would prefer the Navy blue, please let me know before the 15th of July. No guarantee or promises, but we will do our best to accommodate those where we can. Mostly we are constrained by our suppliers. Larger sizes may also be limited in this choice as well.
Also, the other important question for you all is that if your size has changed (that which you placed on your booking form), please advise by July 15th so we can adjust. And again, please note these do run slightly larger in their given size.
Please note these coats are even nicer than what we have done in the past in that they are more expensive and bulkier to mail/ship. So we will not be ordering extras (as we have done in the past) unless we have paid requests for same by the 15th again.
Oh, yes, these coats will be mailed via USPS priority mail prior to your departure for US addresses only. All addresses outside the US will receive their coats in Bucharest or on board.
Documents, trip info booklets, bag tags will be sent to all addresses about 2 to 6 weeks prior to sailing.
I am sure we will be in touch again before our departure! ;-))
Until then have a great & healthy summer.
C & A
PS – again, above is subject to change ;-)) Ricky & Dinah – you won't need these in Grand Cayman – but you will in Europe!! ;-))
---
Update – March 24, 2018 ~
Hey, Cruise Trek Travelers,
We are getting closer to our 2018 adventure and the more we work on the production details, the more excited we get about it all. Visualizing and remembering our own inspection trip we did last year again – a great word for this trip would be "transformative" if not wonderfully "experiential".
Indeed we can all enjoy a fun Caribbean cruise and vacation. But this River cruise and as most of them are – is a true "traveler's" adventure. And as always, getting to share it all with friends and family is the ultimate culmination of an amazing experience.
So with that, we have some quick notes to mention: we still have some very limited cabins . . . and an open Male & Female Trek Share to fill. Interested? Please give us a shout! ;-) And, it is good time to book airfare. We have been helping to direct folks with air arrangements – including the Menyuks and Dominic! Indeed, they are joining us if nothing unforeseen happens. ;-))
For 2019 – working on it and more – and if anyone would like help arranging a different River Cruise for their own enjoyment, please feel free to reach out to us. We wholeheartedly think an Asian trip (on AMA Waterways as well) is a voyage one should do at least once in one's lifetime.
Well, and as a reminder, we also have a Trans-Atlantic cruise to do immediately after this year's AMA River cruise – anyone want to join us with a "crossing"???? This one by itself is an awesome experience.
Want more information – please send us an eMail to get on our eMail list for information. And when it all becomes available, as we are waiting for the super duper offers, we'll be sure to eMail you! Departure is from Rome on October 28 and arrives in Fort Lauderdale November 11.
See you soon! Travel safe & well with curiosity, adventure, and discovery in mind.
Charlie & Aaron
---
Update – January 18, 2018 ~
Hello, fellow Cruise trekkers!
I hope this note finds you all very well after the holidays . . .
First to a quick business item – our cruise date & ship for our Danube II cruise later this fall is just about totally sold out . . . though we may have an opportunity for a few more cabins . . . just never know, as inventory changes . . . so if you want to join us still . . . always and for sure give us a shout-out as inventory changes all the time.
Now reflecting back to our last event – my thanks appreciation again – it was amazing to see how self-reliant and interdependent a group (even family-like) we were . . . from my own viewpoint . . . you guys are incredible . . . and do you remember our Rolf Potts, our guest vagabond from quite a few years ago?? Seemingly we are becoming travelers as such . . . a very cool thing . . .
Speaking of adventures, CT 18 is truly a vagabond opportunity to be just that . . . it is an adventure to catch spontaneous sites & experiences for certain, whether they be meals together or meeting locals or being culturally enriched . . . and opportunities to experience so much.
Excited to share it all with you once again.
Be well and travel safe . . .
Charlie
---
Update – November 15, 2017 ~
Hello, Cruise Trek Family!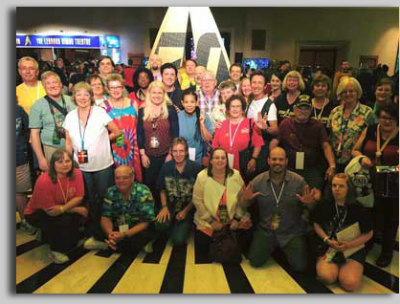 The exuberant Cruise Trek Tribe celebrating togetherness, memories and the 50th anniversary in Las Vegas – what a great shot!
Hope this communique finds you all very well.
A few quick new things to mention for the Cruise Trek 2018 "Danube II – Bucharest to Budapest" adventure. First of all, we extended the Early Booking discount and CT Past Passenger discounts to January 31, 2018, though it is best to book ASAP as some categories are very limited and/or waitlisted only.
Another improvement to our program is that we made Trek Shares available in one category higher. That is, the larger outside cabin including both the French Balcony & "Outside" Balcony is now available as a Trek Share as well. This category (and higher) includes a great new feature on newer river cruise ships – two sliding doors and with one that actually has seating on an outside balcony! We highly recommend this higher Trek Share category because of its larger size, especially for those who are not traveling as a couple. It simply makes much more sense for many reasons.
Plus, while most of you traveling as Trek Shares have already & smartly requested a Trek Share for hotels, we also now officially offer the hotel packages as Trek Shares. In any case, all this is available to see on the newly updated Booking Form for Cruise Trek 2018 and Cruise Trek 2018 Itinerary.
Now to another exciting new cruise opportunity (which may have been influenced by our current "traveling" lives) . . . While we are certainly flying over to Bucharest from LAX (maybe a week prior to our embarkation day), it looks like we will be sailing the repositioning Trans-Atlantic crossing back from Rome, Italy (port is Civitavecchia) to Fort Lauderdale, Florida.
This cruise will depart October 28, 2018, and arrive back in Florida on November 11, 2018. Besides sailing from Rome, we will have stops in Spain (Alicante, Malaga, Cadiz/Seville) and Portugal (Funchal/Madeira). So, our current plan is to fly from Budapest to Rome on October 27, have an Italian dinner, do an evening sight-see or walk about, & overnight in Rome – then sail the next evening from the port of Rome/Civitavecchia. (subject to change per flight availability).
~ Pre-Cruise – Optional ~
October 17 to 20, 2018
City tours in Bucharest and Brasov
CT Family Cocktail Party
Tour Peles Castle
Tour Dracula's Castle

~ Post-Cruise – Optional ~
October 27 to 29, 2018
Budapest and/or Vienna
City tours of Budapest and/or Vienna

~ Trans-Atlantic Cruise – Optional ~
October 28 to November 11, 2018
Rome, Italy, to Fort Lauderdale, Florida
3 Spanish ports
1 Portuguese port
Do you remember how enjoyable the days at sea were on the crossing to Hawaii? This adventure is just as lovely and relaxing, if not more so. We did this itinerary just this last Spring on an amazing newer ship and enjoyed it so much that we definitely want to do it all over again – and on the same ship!! For those of you on the post packages, you could even join the ship in Alicante, Spain, if need be. Sure a little more complicated but also doable.
So, would you like to join us on the Trans-Atlantic add-on adventure – by itself or do both???? Either or is possible!! And one never knows who will join us for the Trans-Atlantic!!?? Really relaxed and enjoyable . . . Kind of like those extra 20 days we did on the South America trip. Remember how family-like that extra segment was?
Something important to note is that we will not book this until we get much closer to the sailing date. This is for the purpose of super-duper pricing on the cruise and flights! In any case, if you are curious, please get on our list of interest, and we can take care of everything as usual. We would love to have you share this not-too-often lifetime opportunity!
Just a couple more things for Cruise Trek 2018. Please be aware that some flights have opened up for those of you wanting to use miles, and if you desire extra nights at hotels for either the pre, post or other, please let us know. In fact one fellow adventurous couple is staying one more day in Vienna to enable a trip for the Mauthausen Concentration Camp Day Trip from Vienna. Though we are booking the extra hotel night for them, they are arranging the tour on their own. Is that right, Tammy & Mike???
Another mention . . . As some of you know, we sailed the same or similar itinerary for both the Trans-Atlantic and Danube River for R&D this last April/ May. And both were indeed wonderful experiences from start to end! It was also good to see that the fellow travelers we met on both cruises were pretty much the same demographics as us . . . unseasoned, seasoned, and some even more adventurous. For the Danube in terms of sites, cultural and historical experiences it will definitely fill you up! And we are totally psyched to do it all over again!
Suggestions – even though we have a Bucharest City Tour included in our pre cruise stay, we also suggest the free city tour one can find online. Also, read up on Vlad the Impaler. This pre cruise tour is amazing and a very popular and a year round sight/destination. And the pride of the Romanians was very apparent in how clean the country was. I noted this aspect to one driver we had . . . funny how he sat up more and smiled. Additional item to note – Bran's (Dracula's) Castle is not ADA compliant – similar to most of what was Eastern Europe.
Yes, it may seem like a lot . . . so, any questions? No worries – just give us a shout . . .
Happy Holidays!
Charlie
PS
Cruise Trek 2017 proved again it is about family, the commonality, the connection, and the experiential aspect of it all! Thank you for the cards, emails and CDs . . . loved it all. I could or should say more . . . though it may be best to get back to you individually. Be well . . .
---
First page of past CruiseTrek Updates