Update – March 5, 2017:
(Please note: To keep abreast of our ever-evolving events, some past Updates are included herein or linked below.)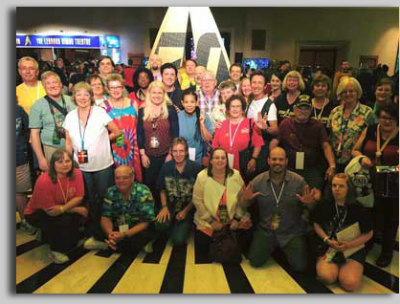 The exuberant Cruise Trek Tribe celebrating togetherness, memories and the 50th anniversary in Las Vegas – what a great shot!
Hello Cruise Trek family,
First, here's a bit of personal information and/or recent history to start this new Update.
However, please feel free to simply skip down to the new and/or additional information for Cruise Trek 2017: "California Gold" and/or Cruise Trek 2018: "Danube II – Bucharest to Budapest."
In any case, indeed, it has been awhile since our last Update . . . . our apologies.
To explain, we have been continuing to live as vagabonds since our month-long CT South America event. So, all in a rather spontaneous way, we became adventurers, and if I may quote one endearing CT family member, we're "roaming the world on the whims of fate . . . 'cause that just sounds so amazingly wonderful."
We have also been busy managing our vacation rental North of Santa Barbara in a small Central California Coast wine and agricultural community. We meet people from all walks of life and from various parts of the country and world. Through our doors come engineers (including rocket scientists, too), airline pilots & captains, project managers, and even Australian emissaries.
Some of our guests even work at Vandenberg AFB (Indeed, we have rocket launches from the town!) or are vacationers simply enjoying all that there is to see and do in our centrally-located humble little town. Mostly, I mention this so if any of you, our Cruise Trek Family, want to stay in that area, please let us know. And if you take care of the cleaning chores upon departure, we will comp for you at least a weekend, if not longer. Casey & Brigit Biggs are up the coast a little ways further hosting a vacation rental as well – Refugio Pasa Robles.
Speaking of travels, we have been vagabonding all over. We spent two months in Playa Del Carmen, Mexico, where we lived as locals, taking in the cultural experience, enjoying 85-degree water, dining generously & inexpensively, and witnessing a turtle hatching in the wild. (I thoroughly enjoyed being the only gringo on the 25-cent local barrio bus.)
~ Do You Need Travel Insurance? ~
Cruise Trek offers TripAssure™ as an example. Click the image below to be taken to the TripAssure™ website:
Visiting Merida, Mexico, was also a highlight as we could venture to magnificent Old World haciendas and even older Mayan ruins both off the beaten path – that is, with minimal tourist traffic. During additional travels, we also shared time & sleepovers with CT family – both the actor and non-actor types.
Even the ever-gracious Menyuks had dinner waiting for us after one vagabonding adventure. Then after that enjoyable meal, we all went for sorely needed local Chinese foot massages!
Oh, and yeah, there are more stories – just not enough room here to expand upon them here. Though please feel free to ask us to share when you see us next!
Next on our schedule and coming up very quickly is a cruise from Fort Lauderdale to Civitavecchia – the port for Rome.
Anyone want to join us on this very inexpensive & yet adventurous transatlantic sailing???
Seriously, we would love to share the experience and the company. We'll be sailing April 2 to the 15th on a grand, newer ship and with stops in the Azores, Malaga, and Alicante. Even better is the price – amazing! Like – it doesn't make sense to stay home! Call or email us and we can even get you booked! Oh, and airfare back is very reasonable through the cruise line. Just as an FYI, afterwards, we will stay in Rome for a few days, and then vagabond off toward Venice.
Beyond that we will find our way to Bucharest and Budapest for some R & D for our CT 2018 adventure. Then we end up in Paris at another house-sitting gig. Though this time for our CT family member John Ps' – remember him from CT 16 South America??
~ Want to Take a Regular / Non-Event Cruise? ~
Cruise Trek can help!
We've been on more than 100 cruises, and we can help you find the perfect cruise you're looking for.
Contact Us!
Oh yeah . . . . If my inference was not clear, we have been making arrangements for many of our Cruise Trek Family to cruise and/or travel either with us or on their own to many near and/or faraway places. In fact, we have a CT actor family doing a 15-day re-position cruise from Tokyo to Vancouver, another family doing the Galapagos, and another couple sailing from Singapore.
When we think about where we have been as a group of travelers, if not as a "family," sharing and experiencing together – the science, the culture, the people, the societies, the economics of each, the geographies of each, the history of each and, of course, the huge differences and yet the obvious similarities – memories come rushing back.
To mention only a few – Paris, NYC, Boston, Sydney Harbor, Buenos Aires, London, Stonehenge, the Historic Beaches of Normandy, CERN in Switzerland, Cape Horn, Australia/New Zealand and Tasmania, the rivers Danube, Seine & Rhine, and really so very much more.
And I mention all this not to be a braggart but to express the gratitude for our shared fascination to seek out different experiences, adventure, connectedness and commonality. All in this moment brings me back to a reflection as a young child crawling around on my father's garage shop floor where he was building the original Star Trek Enterprise model and Shuttle Landing Bay. The model has now undergone a full restoration at the Smithsonian. Alas, certainly another destination on my list.
Okay, enough of that personal stuff . . . Below is the quick and short for CT 2017 and for CT 2018:
CT 17 – "California Gold" ~
New information – Cruise Trek 2017: "California Gold" – Click here for the booking information sheet – BIS CT 2017.
We are very much looking forward to this sailing with our CT family. Sailing under the Golden Gate Bridge together will be a sight and experience to remember always. We are still working on logistics with the cruise line and ports of call. Though, since we are a smaller group, we are thinking of producing some opportunities to enjoy each other's company on various tours and/or family-style meal gatherings in various ports . . .
More info to follow. In any case, please see the below bullet points for current/new ideas and happenings.
Booking discounts & bonus extended for CT 2017 – Indefinitely and/or until supply or program lasts.


Pre & Post Hotel – We can book a hotel stay for you. Simply get us your cc info. You won't have to pay until check out. Best to reserve ASAP as space and pricing is limited. Current Rate – $199.00 per night plus 15.5% taxes. It is a Universal City Studios hotel. If enough are interested, we'll have a pre cruise CT family dinner there or nearby. More info to follow.


Universal Studios – We are working on group/discounted tickets for the Cruise Trek family. More info to follow.


Transfers – We have found UBER to be a very viable option and extremely competitive in availability and pricing. Make sure you download the app(s) before you leave home!


We sail from San Pedro/Port of Los Angeles – Depending upon your needs & costs you can choose to fly into LAX, Long Beach or Burbank Airports – the link above has tons of info.


Sightseeing options for the Los Angeles areas are numerous and varied. And we are finding interests of individuals to be so as well. Therefore, at this time we suggest you figure out your most desirous activity and go from there . . . This way, you can cater to your particular needs. Though here are a few links to help –

Hollywood Tours and Sightseeing
Warner Bros. Studio Tour
A Day in LA Tours
Starline Tours
Universal Studios

That said, for those of you coming in early, we will organize informal gatherings in the hotel lobby to team up with if you so choose!


Ensenada, Mexico – For this port, we will have an exclusive tour to two wineries in Guadalupe Valley which will include lunch at quite a lovely spot. Amazing wines are produced here! At both wineries, you'll have to walk up a few stairs or on dirt pathways. Then afterwards you'll be able to easily walk into town.


Actors & Guests – Still TBA . . . but they will be fun, enjoyable, and engaging!


Around June 1, we will provide you with info to enable you to go online to register for the cruise and more.


Beverage/Wi-Fi Packages – For 1st & 2nd passengers in an outside cabin or above, we can now get you the premium beverage package (includes drinks up to $13) and unlimited Wi-Fi all for only $239pp. Or for $99pp, you can have either unlimited Wi-Fi alone or the lesser cocktail package of up to $8, beer up to $6 and wine to $9 per glass. Soda, water, and juices are an option for both packages. Please email Aaron.cruisetrek@gmail.com for same. Subject to limitations, availability, and change. Just to give you an idea, Internet alone can be more than $200pp for the week.
Announcing Cruise Trek 2018: "Danube II – Bucharest to Budapest" – Click for the booking information sheet – CT 2018 BIS.
CT 18 – European River Cruise ~
~ Pre-Cruise – Optional ~
3 nights – Oct. 17-19, 2018
City tours in Bucharest and Brasov
CT Family Cocktail Party
Tour Peles Castle
Tour Dracula's Castle

~ Post-Cruise – Optional ~
2 nights – Oct. 27-28, 2018
Budapest and/or Vienna
City tours of Budapest and/or Vienna
Many of you have been asking for another European River Cruise. So here you go – fall 2018!!! Remember, most tours, Wi-Fi, beer & wine & soft drinks at lunch and dinner, and bicycles are all included in the cruise price. Oh, and if you have not joined us on a river cruise in the past, English is spoken on board and we'll have a very professional and personal cruise manager to help in so many ways which makes for a very easy and manageable vacation adventure.
Again, please see the below bullet points for where we are at this point of the event production. Important note – up to $200pp off if booked before July 31, 2017 – Please be aware that the lower categories are very limited.


River cruise 7 day exact itinerary coming soon.


Enjoy an optional 3 nights' pre-cruise hotel stay in Bucharest with a tour to Transylvania & the Bran Castle, known as Dracula's Castle. One night we stay in Brasov, Romania. Also available are post-hotel stays in Budapest/Vienna.


CT Past Passenger discount of $50pp & an additional $50pp for early booking . . . as well as an additional cruise line Past Passenger discount of $100pp. All expire July 31, 2017 – need to deposit by check to have these all apply.
Looking forward to seeing you once again . . .
Best of safe & bold travels,
Charlie
Charles C. Datin, Cruise Trek
Mail to – PO Box 4277 Malibu, CA 90264
Phone – (310) 456-7544
Website – www.cruisetrek.com
SKYPE – cruisetrek
Email: cruisetrek@aol.com
---
Update – June 30, 2016: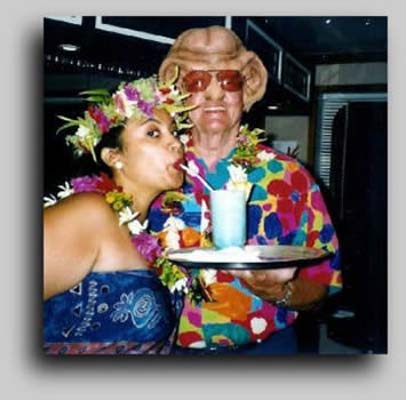 Having fun with an alien aboard the
Windsong
in Tahiti, 1997. Charlie's favorite photo of then-CEO of Holland America Line & Windstar Cruises Kirk Lanterman as an alien (he had a "ray gun", too! – that's what he called his phaser anyway . . .), along with CT friend, the lovely Lydia Lopez.
Reminisces of our last adventures & past CT Family and announcing Cruise Trek 2017: "California Gold"
Hello, Cruise Trek Tribe!
It's been too long for sure . . . and simply getting back to reality after our grand South America adventure has not been all that easy!
I am simply too desirous of wanting to go adventuring all over again! More so, I miss our people! Remember Cape Horn day . . . cruising the Beagle Channel & more? It was another amazing trip . . . but, this one got to my core. At times we were so immersed in natural beauty and yet still able to see humanity and its effects on our planet in both good and sometimes not so good ways. It was a truly life-broadening experience.
Our passion, intellect & cultural curiosity were hugely piqued and so much so that I am still seriously missing our CT tribe. Perhaps maybe it was just because we shared it all together . . . taking meals together in culturally enriching Buenos Aires and exploring the many ports of call could have not have been any more enjoyable.
Family style dinner in the Argentinian way at our home base hotel in Buenos Aires and touring the city together will always be ingrained in my fondest of memories. And the 20-day long second cruise segment left me wanting for so much more.
In fact, these feelings are shared by more as we even have some of our CT family booking additional cruises with us this year as they loved being away and the adventures so much! And then to balance all the inspirational brain food was the zany silliness we also had on-board, which only comes from being able to enjoy each other at a higher and more intimate level.
Right, Dominic!!??
In any case, thank you very much for the opportunity to share our commonalities and our curiosities, as well as for perhaps broadening our human perspectives.
~ Do You Need Travel Insurance? ~
Cruise Trek offers TripAssure™ as an example. Click the image below to be taken to the TripAssure™ website:
Though speaking more of silly, generous, and wonderful, we all remember our friend Dominic Keating (Enterprise's Malcolm Reed) sharing very personally/intimately of his start in show biz, his talents and his work regarding the Iliad while in South America; he just recently performed the same piece in front of a live audience in DC.
Next time he performs, I hope to get the word out to all of you for your own enjoyment.
We also had the ever-energetic Jerry Hardin with us on such a grand trip and at 86 years young!! I aspire to be just like him!
Then additionally, we had our friend and visual effects guru Ron Moore (5-time Emmy award winner), for the first time, sit down with actors to discuss the very essence of the movie/TV business at a very personal level. It was certainly enlightening.
Besides getting back into the reality groove upon our return, we have been changing our computer system to allow being on the road more often. We might become even more vagabond-like (remember Rolf Potts and his book Vagabonding?).
With that, we have changed our CT phone line to be a "Magic Jack" or VOIP line. This way we can bring or forward our phone line anywhere in the world while we travel. A really cool device/app and one we thought to recommend as a way to avoid land line costs.
NO WORRIES THOUGH. WE WILL KEEP THE SAME MAILING ADDRESS, PHONE NUMBERS, AND EMAIL ADDRESSES.
And perhaps more importantly to the CT Tribe, we have also been researching alternatives for our next CT adventures for 2017 and beyond . . .
With that, we have the pleasure of announcing our next adventure, this time, much closer to home – "California Gold": September 24 to October 1, 2017.
(Click here for Booking Information Sheet.)
We will sail from Los Angeles to Santa Barbara, San Francisco, Monterey, and Catalina Island, and then to Ensenada, Mexico, to meet the Jones Act requirements. In Los Angeles, we will gather for our pre-cruise hotel (Universal Studios area) and perhaps tour to several places including the Griffith Park Observatory (and the Leonard Nimoy Theatre within), JPL for a science lesson, and the Reagan Library (and it does not matter your political affiliation – this place is just cool for all, especially history buffs).
~ Fun in California! ~

Griffith Park Observatory
Los Angeles Science Center
Hearst Castle
Monterey Aquarium
Carmel
Cannery Row
And on the day of our transfer to the pier, we will stop at the Los Angeles Science Center, where the Space Shuttle Endeavor is displayed . . . by itself, a fun day to be had for all . . . and again . . . there's no telling which actors will join us on all of it!
A possible optional tour may include a Central Coast road trip to Hearst Castle (overnighting near Cambria) and perhaps to Paso Robles to a special locale.
Sailing under the Golden Gate Bridge, a part of our next adventure, is a sight to behold. Then we'll enjoy all that the Bay Area has to offer. In any case, options for this day and night are still in development, though we may tour the Napa Valley wine country and/or trip over to Lolita Fatjo's for a barbeque or simply explore the city and hang for a CT family gathering/dinner. We will let you know as it all evolves.
Other possible excursion options include visiting the Monterey Aquarium or Golden Gate Park (Remember The Voyage Home?).
Also, the 17 Mile Drive, Carmel (home to Clint Eastwood), Cannery Row, are additional scenic possibilities. Driving the Central Coast on Highway 1 is consistently listed one of those trips you have to do before you just can't.
Then there are meals and/or tours in other ports to plan.
How about a family outing (if not simply a big party) in Ensenada at a local restaurant? Remember past festivities at Carlos & Charlie's? We were last there a few years ago on our Hawaiian cruise . . . great food, great people and good times! We will be arranging this afternoon beforehand. And we'll let you know as this one, too, evolves.
In 2018, we are looking forward to a European River cruise once again . . . how about from Budapest, Hungary to Bucharest, Romania? More to follow.
~ Want to Take a Regular / Non-Event Cruise? ~
Cruise Trek can help!
We've been on more than 100 cruises, and we can help you find the perfect cruise you're looking for.
Contact Us!
As an additional side note – looks like the Star Trek® model my father worked on so many years ago has undergone a huge renovation – "Smithsonian Sets Phasers To Restore On Original Starship Enterprise", NPR.
I know he would be happy to see it displayed in a much more worthy locale. Enjoy . . .
Once again, we believe Cruise Trek 2017: "California Gold" will be another great opportunity for family, tribe, and friends both new and old.
Though sadly, we have lost a few CT Tribe members these past few months – Tom Pacuk and Jug Tivald. My memories with them will always be fondly cherished. Again, and of course, my sincere condolences go out to their respective families. Loss is difficult.
Looking forward to seeing you once again . . .
Best of safe & bold travels,
Charlie
---
Update – January 22, 2016: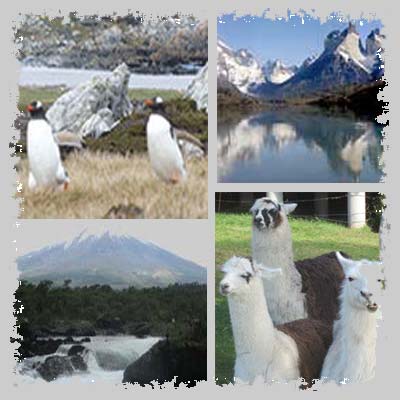 ~ Cruise Trek 2016 Fun ~
Highlights, left to right – Stanley penguins, Punta Arenas National Park, Osorno Volcano in Puerto Montt, and Llama farm.
Hello!!
Hope you all had wonderful holidays . . . and thank you very much for all the cards and notes.
Alas, we have been fairly busy seemingly running about the world. After an enjoyable Cruise Trek 2015 event to the Caribbean and all the related prep and work, we returned home to prep for our departure to Paris and the UK very shortly thereafter. We had a Shakespeare Festival event to produce and direct on Cunard's QM2 out of Southampton.
As always, Paris was just wonderful in spite of the heightened security for the Global Climate Conference. Even so, the Christmas Markets certainly lifted the holiday spirit. Leaving Paris, we took the Chunnel for the first time to London. . . So much easier than a flight! And as an FYI, if booked way in advance, it's way cheaper!
And then London was amazingly festive at holiday time and finding a Whole Foods during our Trek to Piccadilly Circus was cool even if a juxtaposition. Plus, to see an ice skating rink as inspiring as Rockefeller Center was lovely as well.
Sailing out of Southampton, we were off to the Canary Islands, Lisbon, and Vigo with voracious Shakespeare fans. To top it off, we did a trans-Atlantic crossing back to NYC on the same ship with back-to-back snow & hurricane-force storms! Ironically, we docked in NYC with 72 degrees on Christmas Eve! Wow. . . Sharing a hotel stay in Times Square with CT family is an experience like no other! LOL Indeed, it was all very adventurous and the lesson was that it is still very true: travel simply expands life like nothing else!!
We enjoy sharing our experiences – so please feel free to inquire if you want to know more.
Speaking of adventurous travel. . . we certainly have one coming up with our grand "South America Passage." In fact, everyone I speak with is like, "Oh, my goodness, I have always wanted to do that!"
And I am goose bumped every time I speak of South America. And if it does not hit you over the head as to what you will experience during the trip. . . it most definitely will do so upon your return!
With that, if there are any of you on the sidelines or undecided about going or think that it is just too much of trip. . . Please, please get to us and we will help in any way possible to see you aboard this awesome & enlightening adventure of a lifetime. For me, to experience the local cultures, flavors, the Beagle Channel (named after Darwin's ship) and so much more are simply extraordinary. And, as always, it is so much more amazing to share the adventure with the comradery and commonality that comes from traveling with our family of friends!!
Importantly – For those of you already booked for Cruise Trek 2016 "The South America Passage", please go to the following link for more information on our upcoming adventure –
Additional information for CT 2016
Feel free to reach out if you need to. . .
Be well and safe travels!
With appreciation & respect,
Charlie & Aaron
PS #1 ~
Are you looking for something a little simpler and/or a Dr. Who event??
Please check out what our friend & Dr. Who Fan (Dan Harris at whocruiser@aol.com) is producing for his next cruise event. . .
We are handling the bookings and some onboard arrangements for this event. . . www.scificruise.com. Albeit, it is on Carnival Cruise Line, and the sailing date conflicts with our South America sailing date. . . and so it will be different.
But, Dan has a very interesting & fun list of attendees & guests.
PS #2 ~
If you are new to Trek events and/or wish to go down memory lane, here is another blast to the past and a great reference for what we are largely about – CruiseTrek – The Cruising Adventure Is Just Beginning .
---
First page of past CruiseTrek Updates