Archive for Past Cruise Trek Updates
Update – May 24, 2014:


The actors setting sail with Cruise Trekkers on a journey
around the British Isles . . .
Hey there, CT 14 British Isle cruisers!
Just a few more things to mention & reminders . . .
London – we have actors!
Photos (kinda cool images and a combo never done before) will be on the web site this weekend. These are also the pix you will receive along with your travel docs. Of course, and as always, this list can change.
The Menyuks, Dom Keating, and Max Grodenchik with his lovely wife and infant child . . . along with his in-laws, who are taking their first cruise . . . Oh – as mentioned previouosly, Ron Moore & Lolita are with us, as well . . .
We will have two formal nights on board . . . not sure which nights just yet. Though remember, you do not have to get too fancy . . . and and packing light is a good thing . . . But if you prefer or enjoy to get all gussied . . . please do! ;-)
Remember to purchase travel insurance, if you so desire or need . . . We sent out MH Ross brochures to everyone, and this company's link is on our web site – but you can also shop others and/or local to you . . . Basically, travel insurance is available and recommended . . .
Other thing – you know, there are a couple shows that some of you may be interested in . . . The links below speak for themselves . . .
La bohéme – at the Royal Opera House
Oh yeah – the British Open.
And just an fyi . . . Mersey-Sci Fantom Weekend.
See you soon!
Charlie
---
Update – March 25, 2014:


Highlights of Charlie's recent trip to Asia . . .
Hey, hey, CT family!
I hope this communication greets you all very well . . .
Just wanted to share with you that we are back from our 7-week Asia adventure. . . Yeah, along with colds, asthma attacks and jet lag. . . Oh, well . . That kinda stuff does happen ;-))) In any case, what a trip to expand ones outlook and perspective on the world! ;-))
Especially when it comes to Big History and current global issues . . . Wow . . . If one (like me) did not totally understand the issues of global warming or at the very least global pollution . . . One only has to travel to Asia to learn for oneself. Plus, seeing and touring the "Hanoi Hilton" (American POWs interned in this jail) is at the very least sobering if not chilling . . . and heck, this place was also a jail to political prisoners before the "American War", as the Vietnamese call it.
What was especially amazing was to have a tour from a local college student (and a really smart one) to get more of the personal, local and authentic perspective. To do a "local" tour in any destination you travel is always highly recommended. We found this lovely young person from HanoiFreeTourGuide.com. Oh gosh, and yeah, then to see the "killing fields" of Pol Pot . . . Yikes!
On the positive side – culturally I have never experienced so many kind and smiling people! And had a massage on the beach to help me with spinal issues . . . Kinda different at least! ;-))
Though on a much less cerebral level, a cool thing for me, being kinda fond of ships and models (think that comes from Dad) – I found ship models in Vietnam and at a seriously reasonable price. The dozen or so I bought will make great office & household discussion pieces . . . ;-)) Yup, ocd on ships . . . ;-))
In any case, we are back . . . Getting caught up on paperwork, and we are almost there! Sure, some things will probably cross in the mail . . . but, we are pretty much on top of all . . . It is always good that we have systems in place that give us the ability to "massage" things . . . though we still have some fine tuning to do in the production of our upcoming CT 14 adventure . . . Anyway, when we have more info for the group as a whole . . . it will be sent to you all for sure! ;-))
So, with that . . . a reminder to you all . . . Final payment is due April 1, and for those of you that still need transfers, hotels (higher rate now for sure), tours, BVP or whatever . . . please get to us asap.
We still have availability for all, but things are getting tight and/or prices are increasing at this point.
Hey – looking for some feedback – so, a question for you all – how about a science lecturer on board?? After our impressive trip to CERN last year, I am thinking we would all enjoy some additional science. I have some truly wonderful if not even entertaining presentations/presenters in mind. After all, science has been growing by leaps and bounds and so much so these last 10 +/- years that it is almost impossible to keep up . . . even for the scientists!! So, what say you???? How about Big History . . . from the Big Bang till now . . . Or??
This note will be posted to our FB page (and perhaps our web site), along with a couple fun or poignant photos from Asia . . . if you care to see some . . . from Siem Reep, Cambodia & Temple pix, then to the epitome . . . a sleeping tuc tuc driver – these drivers actually sleep in between runs right on their Tuc Tuc!
LOL – then a couple ships models . . . all pix reduced in size to send more easily . . .
Looking forward to seeing you all in London this July!
Travel safe,
Charlie
---
Update – January 22, 2014:
Hey there, Cruise Trek Travelers!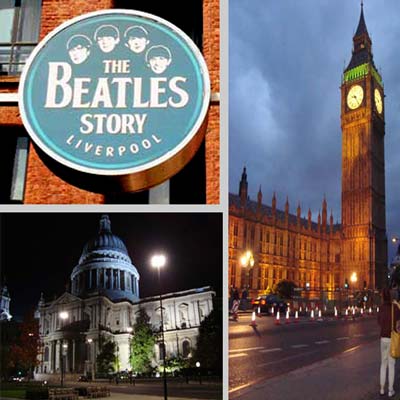 Famous British landmarks, left to right – The Beatles Story in Liverpool, England; St. Paul's Cathedral, and St. Stephen's Tower and Big Ben.
Images courtesy of Pavel Issac and webmaster Cheryl Morris
As always, we would love to have more of the CT family join us! We still have cabins available for the British Isle Intrigue adventure – our first trip to the British Isles! And information on: pre & post cruise London Hotels; pre-cruise Bon Voyage Party; London to pier to London or Heathrow Transfers; and pre-cruise London Tour options for July 12th & 13th (Saturday & Sunday) are included herein!
So, if you are interested. . . the British Isles Intrigue page, right here on the Cruise Trek web site, has the Booking Information Sheet. Please download same and return . . . as always, the sooner the better and via email is best. On this topic, the good news is that we have extended the discounts through February.
Though if we are slow to get back to you on your requests, please know that we are off in Asia either doing a little R & D for a future CT family adventure and/or working another Insightcruises.com event. Yeah … it is work! ;-)) As always, thank you for the patience & understanding.
Please also know if we already have your requests for any of the information below, we will process accordingly and send an invoice reflecting that same initial request.
Pre-Cruise Hotel:
As previously mentioned in both emails and on our web site, it looks like we found a very good option at a great price for pre-cruise London hotel needs. . . though truthfully, the rates have apparently increased at this point for new reservations. . . though you never know. . .
What we had described and offered back in October was "up to 3 nights (Friday, Saturday & Sunday) prior, we have rates starting at 165 GBP including VAT. For longer stays, the rate will increase. Because the rate is very, very good and so we do not want to draw too much attention, less the price go up. . . we would like to offer only the following description: This Hotel is a traditional deluxe four-star hotel in central London. Moments from Buckingham Palace, the Houses of Parliament, the London Eye and Victoria Station, the hotel could not be better positioned for your business and leisure needs. . . basically, a great spot for a great price!"
In any case, please get to us ASAP and we will research for the same pre-cruise hotel.
Pre-Cruise Tours:
~ Fun Tours in London! ~

Option 1 – Salisbury Cathedral, Bath
and Stonehenge

Option 2 – Hampton Court, Windsor
Castle, and Oxford
Tours are subject to minimum and maximum attendances. Meals are not included. Payment for tours is due upon cruise final payment date.
Saturday, July 12 – Salisbury Cathedral, Bath and Stonehenge
A very full day tour, journeying through the English countryside to take in Salisbury Cathedral, the ancient Roman town of Bath, and the twilight beauty of Stonehenge.
An example of Early English architecture, Salisbury Cathedral is also home to the best-preserved Magna Carta, Europe's oldest working clock, and the largest and earliest complete choir stalls.
Founded by the Romans, Bath is also the most complete and best-preserved Georgian city in Britain. Our visit includes a guided walking tour of the city center, as well as a tour of the Roman Baths.
We return to our motor coach and continue to Stonehenge for an evening viewing of these ancient monoliths. We'll learn about the site's geography, archaeological and astronomical background – and the names of the key stones.
Cost is $199pp.
Sunday, July 13 – Hampton Court, Windsor Castle, and Oxford
A very full day tour takes you to three of Britain's most iconic landmarks.
The thousand-year-old Windsor Castle, home of the current Queen of England, is our first stop, with a guided tour of the famous collection of fine art at the "House of Windsor".
We leave Queen Elisabeth's palace to journey back in time to the summer palace of King Henry VIII – Hampton Court. Our guided tour includes the Chapel Royal and the palace's magnificent gardens.
Our final stop is Oxford and a guided walking tour of this beautiful city. We'll have free time and lunch here.
Cost is $199pp.
Pre-Cruise Bon Voyage Party: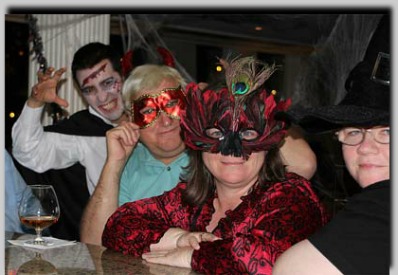 Celebrating Halloween in Paris on the 2013 Seine cruise – now imagine this crew in London at a traditional pub with pub grub and grog!
Sunday, July 13th – The evening before embarkation, our traditional and typically very fun meet & greet (or "breaking of bread" occasion) will be in a very traditional local Pub and will include great typical and unlimited pub grub & grog and within a short walk of our pre-cruise London hotel above. Please be aware that the private & exclusive upstairs area we will use in the pub may not have a WC nor an elevator. . . of which will be downstairs. . . though previous events here have been fine for all. Start time will be approximately 7pm – exact address: TBA. We may even have this venue completely to ourselves!! ;-)
Cost of BVP – If you book the above CT pre-cruise hotel and the CT transfer to the pier as the cost is $129 pp, otherwise cost is $159 pp. Sorry, no tickets available for non-cruise event attendees.
Please be aware that there are a very limited number of tickets for this occasion.
Transfers:
This may be the only spot where things may sound a little complicated as there are different needs involved. However, we will endeavor to explain all as thoroughly as possible below.
For London Heathrow arrival transfers, check out the below links –

Heathrow Airport

Super Shuttle – London International Airports
Monday, July 14th – Embarkation day transfer and exclusive CT Family motor coach will depart (only) from our CT Family Hotel in London. We will depart at 10am. Cost, to be pre-paid at cruise final payment date, is $99.00 per person. If you are staying elsewhere, you can certainly join us for this transfer, if you desire. You simply have to make your own way to our hotel and obviously on time. We will meet in the lobby, and then as is typical, each of us will personally check that our individual luggage gets on the bus… and go! ;-))
~ Do You Need Travel Insurance? ~
Cruise Trek offers TripAssure™ as an example. Click the image below to be taken to the TripAssure™ website:
Transfer time from London to the pier in Harwich is approximately 2 to 2.5 hours, depending upon traffic. This will be a relaxed morning departure with a late morning arrival at the pier. . . Exact timing and other info will be sent with your E-document package or via email. Cabins may not be available upon arrival but a buffet lunch will be. Remember our cruise departure is 5pm and we need to be on board at least a couple hours before.
Though it is not recommended to arrive on the day of sailing, transfer from Heathrow airport can be arranged through the cruise line (on this day only), but we need to have your air schedule to do so. Cost is $119pp with fees and needs to be pre-paid on cruise final payment date. Transfer time is approximately 2 hours. Last transfer departure to the pier is at 11am. But, oh boy, we do not recommend this option. . . It is just way too tight, and you could miss the boat!
Thursday, July 24th – Disembarkation day transfer has options according to your needs. It is important to know and understand that the cruise line has a 1pm flight departure requirement, meaning you should not book a flight before that time. Transfer to Heathrow is 2 to 2.5 hours.
Option 1 — A Cruise Trek Family exclusive motor coach will depart the Harwich pier at approximately 9 to 9:30am for transfer to Heathrow airport only. And/or when after all passengers reserved have boarded the coach. Arrival is expected to be at approximately 11:30am. Cost is $99 pp. I will be aboard this transfer and flying out this day as well.
Option 2 — If you desire a post-cruise hotel stay in London, we can reserve this through the cruise line. And this stay includes your room, taxes, breakfast and transfer from the pier to the hotel used by the cruise line. No transfer is included after check out. Hotel costs are explained below.
Option 3 — If you have a flight after 3:30pm this day, you can book a transfer that includes a London panoramic city tour. You can book this option or another online after receipt of e-tickets or onboard.
Post-Cruise Hotel:
We will personally be departing Heathrow on July 24 (disembarkation day), but we indeed understand that some of you may wish to stay longer in London. However, perhaps some of you may only need a hotel near Heathrow airport, due to flight schedule restraints. Either way, we can help you reserve these options.
~ Want to Take a Regular / Non-Event Cruise? ~
Cruise Trek can help!
We've been on more than 100 cruises, and we can help you find the perfect cruise you're looking for.
Contact Us!
Option 1 — The Heathrow Airport Hotel option will be the least expensive and booked independent of the cruise line. But you will need to add the cost (as listed above) of a transfer to the airport area on disembarkation day as it is not included.
Option 2 — The London Center Hotel Option, while seemingly expensive (as London can be) is more than likely best booked through the cruise line, as it will include taxes, breakfast and transfer from the pier to the hotel. But please be advised, it will not include any transfer to the airport or other, which will then be on your own to arrange when once at the hotel. Hotel costs for one, two or three night stays respectively are as follows: single; $439, $789, $1,139 — double; $538, $898, and $1258. This option is to be paid by cruise final payment date.
So, if you are interested in any of these London hotel options, please contact us ASAP with your request, and we will delve further into the subject with you.
Confirmations of independent hotel reservations will be sent to you via email or smail. Any hotel reservations or transfers booked through the cruise line will be included on your CT invoice and subsequently included in your travel document package/email.
As described in the sections above, the Pre-Cruise Tours, the Pre-Cruise Bon Voyage Party and any CT exclusive transfers will simply be added to your invoice.
At this time, it is expected that our special guests will also join us for the BVP, CT family pier transfer and perhaps even the pre-cruise tours.
Airfare:
It is possible for the CT office to arrange your airfare through Celebrity Cruises, though full payment is due for same upon booking, and it is not refundable. Good thing is that the fares are often less than what is generally available independent of the cruise line, even after the $75 fee that will be applied to each CT invoice for this additional service. For seating, meals, medical needs and/or application of Frequent Flyer numbers, passengers need to contact the airline directly. If interested and at time of your request, please provide us your name as printed on your passport, date of birth, air gateway and exact dates of travel required.
All costs above are subject to change and availability.
Always Safe Travels,
Charlie
---
Prev Page | 1 | 2 | 3 | 4 | 5 | 6 | 7 | 8 | 9 | 10 | Next Page